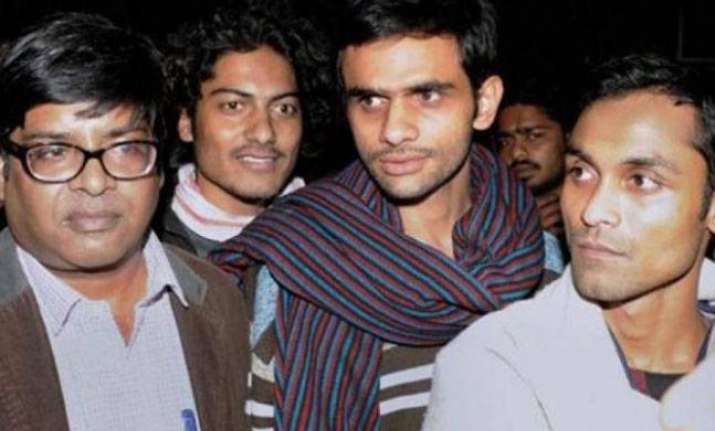 New Delhi: The Patiala House court in Delhi has granted an interim bail of six months to Umar Khalid and Anirban Bhattacharya, two students accused in a case of sedition over an event to commemorate the hanging of Parliament convict Afzal Guru on the JNU campus where anti-national slogans were allegedly raised.
The court granted an interim bail of six months to the duo while imposing conditions similar to those put down on JNUSU leader Kanhaiya Kumar who was released after being arrested on similar charges last month. The conditions include making sure that they do not indulge in anti-national activities and cooperate in the investigations.
The court also asked the two accused to file a personal bond of Rs 25,000 each 
and a surety of the like amount.
The major argument put forth by the students' lawyers argued before the Sessions judge was the bail granted to
JNUSU
leader
Kanhaiya
Kumar who was released after being arrested on the same charges.
The police, on the other hand, said the case of Kanhaiya could not be compared with that of Umar and Anirban on grounds that the duo planned, organised and made all arrangements for the February 9 event. The police also said that the event on the university campus was unlawful and that the two students had led the mob.     
The arrest of Umar and Kanhaiya preceded high drama with all accused allegedly went absconding soon after the arrest of Kanhaiya Kumar. They resurfaced on campus after which they courted arrest.
Besides being subjected to conditions, the two students have also been asked by the court to cooperate in the police investigation into the case