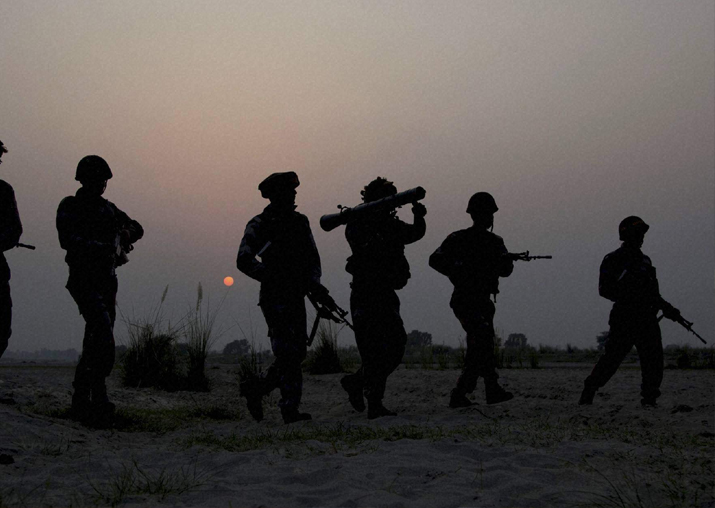 Security forces on Sunday foiled an infiltration bid along the Line of Control (LoC) in Kupwara's Keran sector, killing one terrorist. One AK-47 and four magazines were recovered from the terrorist.
A joint team of Army and BSF guarding the border noticed a group of terrorists attempting to infiltrate in Keran sector, official sources said. 
"When challenged and asked to surrender, they opened fire. The fire was returned and in the ensuing gun battle, one infiltrator was killed," they said.
Additional security forces were also rushed to the site and the area was sealed to thwart any further attempts.
Earlier today, Pakistani troops again targeted Indian posts and villages along the IB in Akhnoor sector, killing two BSF personnel, including an officer.
This came just five days after the Director Generals Military Operations (DGMOs) of the two countries agreed to implement the 2003 ceasefire pact earnestly in a bid to ensure peace on both the International Border and the Line of Control (LoC) in Jammu and Kashmir.
The clashes, which lasted almost eight hours, forced the authorities to shift civilians from border villages in Pargwal and Kanachak sub-sectors to safer places out of the line of fire, with police using bulletproof vehicles in at least 30 villages.
Pakistani shells landed deep inside the Indian territory in Pargwal and Kanachak sub-sectors.
Assistant Sub-Inspector S.N. Yadav and Constable V.K. Pandey of the Border Security Force (BSF) were killed in the violation of the 2003 truce in Akhnoor sector's Pargwal sub-sector, the police said.
The area affected involved 30 villages and 10 BSF outposts.
"Eleven civilians and a BSF trooper who were injured have been shifted for treatment to the Government Medical College Hospital in Jammu city," a police officer said.
Civilians flocked to the hospital to donate blood for the injured.
After the clashes halted in Akhnoor sector, residents of over 30 villages came out of their homes to take stock of the losses suffered by their homes, cattle and farm land.