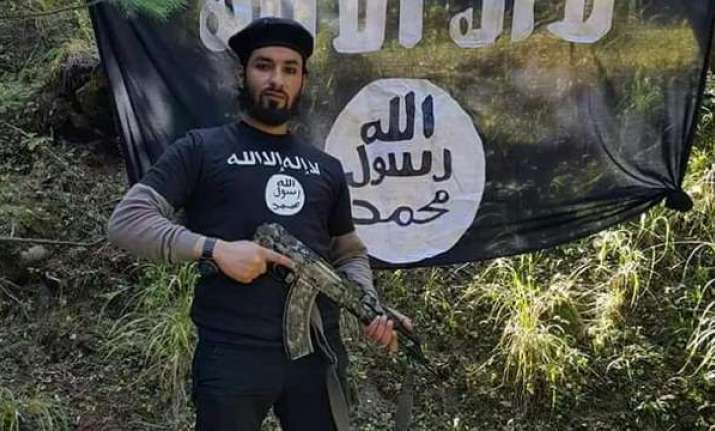 A police sub-inspector (SI) was killed and Special Police Officer (SPO) injured in a militant attack on a police party in Zakura area of Srinagar on November 17. 
In the retaliatory action, one militant Mugees Ahmed Mir was also killed and another captured by the security forces. The slain terrorist's body was wrapped in an ISIS flag at his funeral even as thousands attended the event amid a high-pitched anti-India sloganeering. 
Now, Amaq News Agency, the media arm of the Islamic State, has claimed the terror attack in Zakura.
SITE Intel Group, which claims to be the provider of Jihadist/Far Right & Far Left/Cyber Security News, tweeted that Islamic State claims the responsibility for Zakura attack.
This is the third terror organisation to have claimed the Zakura attack after Tehreek-ul-Mujahideen and Ansar Gazwat-ul-Hind.
"These are claims which need to be verified. We are investigating the matter. This is also the third outfit in the valley which has claimed the responsibility. It will be too early to comment on these claims," IGP Muneer Khan was quoted by The Indian Express as saying.  
Mugees, who originally operated with the Lashkar-e-Taiba (LeT), had lately joined the Al-Qaeda affiliated group, Ansar Ghazwat-ul-Hind, headed by Zakir Musa.
He was travelling in a car which was intercepted by the operational detachment of the Special Operations Group of Jammu and Kashmir police near Zakura. 
The militants on board opened fire in cops triggering an encounter in which SI Imran Ahmed Tak was killed nd an SPO injured.
The incident came just two days after an audio clip from the leader of an ISIS module in India called for 'lone wolf' attacks in the country, exhorting the members of the terror outfit to target Kumbh Mela and Thrissur Pooram.