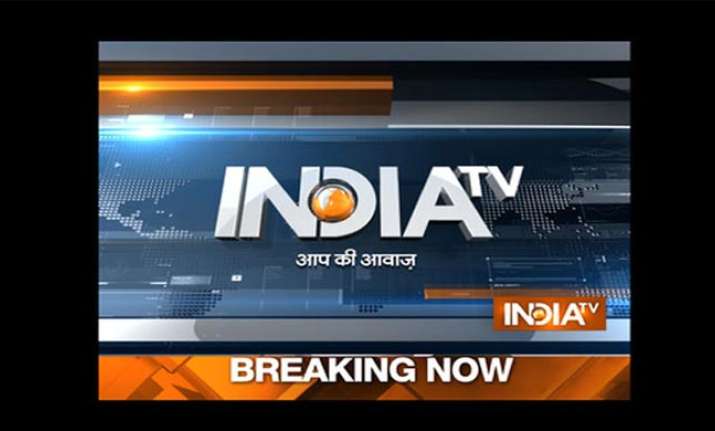 National News
Leave or we push you out of India: MNS sets 48-hour deadline for Pak artists
Days after Pakistan-backed militants attacked an Indian Army base in Uri, Raj Thackeray's Maharashtra Navnirman Sena (MNS) today issued a 48 hour-ultimatum to all Pakistani artists working in India to immediately leave the country.
Eight years on, Goa court acquits both accused in rape and murder of UK national Scarlett Keeling
Eight years after her 15-year-old daughter Scarlett Keeling was found sexually assaulted and dead at Goa's Anjuna beach, a local court here today acquitted two men accused of raping her and causing her death.
Siwan journalist murder: SC issues notices to Lalu Yadav's son Tej Pratap and former RJD MP Shahabuddin
The Supreme Court today issued notices to Bihar Health Minister Tej Pratap Yadav and former RJD MP Mohammad Shahabuddin in connection with the murder of Siwan journalist Rajdeo Ranjan.
Mixed signals to PM Modi's Islamabad visit to attend SAARC summit
With heightening tension between India and Pakistan, the NDA government has kept the suspense alive over Prime Minister Narendra Modi's Islamabad visit to attend the SAARC summit in November.
India inks 36 Rafale fighter jets deal with France worth Rs 59,000 crore
India today signed the much-awaited Rafale deal with France for 36 Rafale fighter jets worth Rs 59,000 crore (7.87 billion euro).
International News
We are considering forming 'govt in exile': Baloch leader Ahmed Suleman Daud
Ahmed Suleman Daud, Baloch leader and the 35th Khan of Kalat, has asserted that the Baloch people are considering formation of a 'government in exile'.
'Mr President, please go get him', 6-year-old wants Obama to bring wounded Syrian boy to his home
A few months ago, a photo of a 5-year-old Syrian boy surfaced on the internet that questioned our faith in humanity. In a direly wounded state, Omran Daqneesh brought tears to many eyes and anger in others.
Beijing distances itself from Pak media reports of China's backing to Pakistan on Kashmir
A day after Pakistan Prime Minister Nawaz Sharif's repeated calls to the United Nations to intervene in the Kashmir issue turning futile, China on Thursday distanced itself from media reports which claimed that Premier Li Keqiang had assured Pakistan of China's backing on the Kashmir issue during his meeting with Nawaz Sharif.
Business News
SC grants one week's time to Subrata Roy to surrender
The Supreme Court today granted one week's time to Sahara chief Subrata Roy to surrender and return to custody
GST threshold fixed at Rs 20 lakh, rate to be decided in October
In its first set of decisions, the Goods and Services Tax (GST) Council headed by Union Finance Minister Arun Jaitely today fixed the turnover-based exemption limit from such levies at Rs 20 lakh, but left the decision on fixing the actual tax rates and the finalisation of draft rules for later.
Delhi HC approves WhatsApp's privacy policy but says conditions apply
The Delhi High Court today gave its go-ahead to WhatsApp's new privacy policy which will let the instant messaging software share the information of its users with its parent company Facebook.
Entertainment News
Abhijeet lashes out at KJo, Mahesh Bhatt and Khans for working with Pakistani artists
Singer Abhijeet Bhattacharya who has an impression of being vocal about his opinions on micro-blogging website Twitter, slammed A-listers of Bollywood recently for working with Pakistani artistes. The singer's comments have come in wake of the Uri Attacks of Sunday in which 18 soldiers were martyred.
The Ring: Shah Rukh Khan, Anushka Sharma wraps Amsterdam schedule in 'style'
Superstar Shah Rukh Khan, who has been shooting in Amsterdam for his upcoming movie 'The Ring', has finally wrapped the second schedule in the city. The team had shot the first schedule in Prague early this month.
7 Pakistani celebs who might face trouble after MNS threat
India and Pakistan share a very sweet and sour relationship. It's been around seven decades that the neighbours have been fighting over Kashmir and cricket. However, our showbiz industry has always been unfazed by Indo-Pak hostility. Bollywood has always welcomed talent across the border with open arms and the Pak celebs too have maintained their dignity here.
Sports News
IND vs NZ, 1st Test, Day 2: Latham, Williamson put Indians on backfoot, Kiwis at 152/1 at stumps
On the second day of the first test match between India and New Zealand, Tom Latham (56*) and Kane Williamson (65*) put Kiwis in a comfortable position against India as rains led to early close at the Green Park Stadium here on Friday.
Sports ministry to recommend Rio Paralympic medallists for Padma awards
Rio Paralympics medallists are set for greater recognition for their achievements with the Sports Ministry on Friday announcing that it will recommend names of Paralympic winners for the Padma awards this year.
IPL is worth Rs 27,000 cr, KKR growing faster than Manchester United: BCCI
The Board of Control for Cricket in India (BCCI) has claimed that the cash-rich Indian Premier League (IPL) brand is worth a massive $4.5 billion (approx. Rs 27,000 crore).