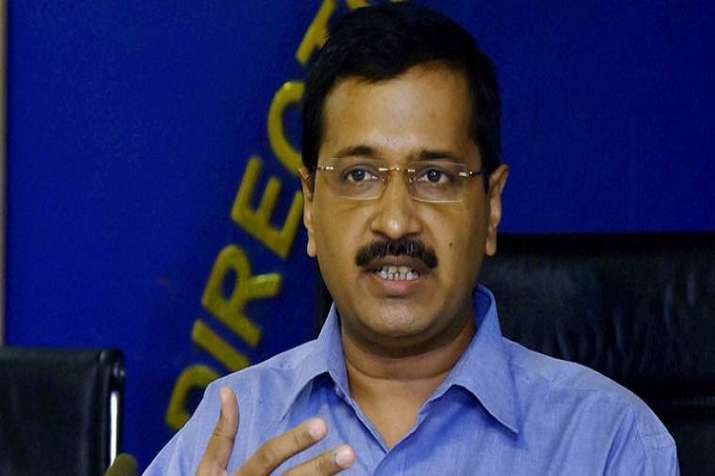 Delhi Chief Minister Arvind Kejriwal on Monday wrote to Lt governor Anil Baijal wondering how he can be selective in accepting the judgement of the Supreme Court, on power tussle between the Delhi government and the Centre.
In the letter, Kejriwal urged Baijal to implement the order of the apex court in letter and spirit. He also asserted that the Ministry of Home Affairs does not hold the powers to interpret the order.
The Delhi chief minister also urged L-G to approach the Supreme Court immediately, for clarification in case of any confusion, "but kindly don't violate the order of the apex court," he added.
"But how can you be selective in accepting the judgement? Either you should take a position that all the matters now would be placed before regular bench and therefore, you would not implement any part of the order. Or you should accept the whole order and implement it.
"How can you say that you will accept this para of the order but not accept that para of the same order?" said Kejriwal in his letter.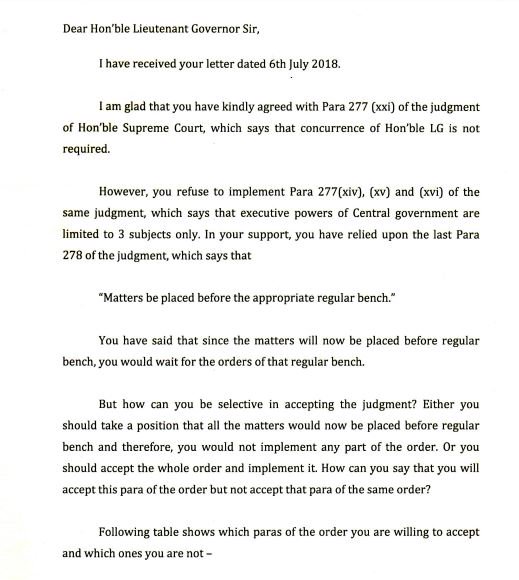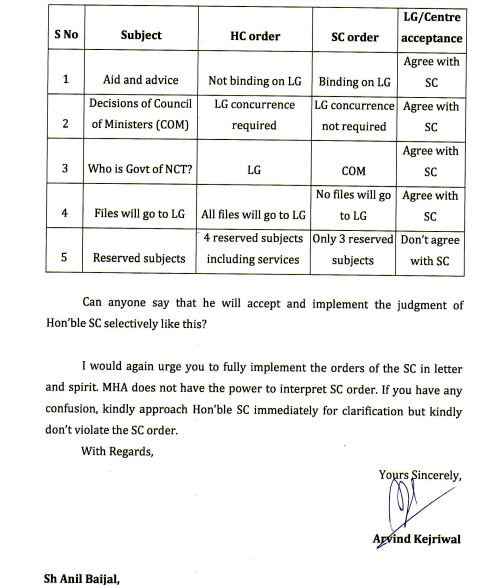 Chief Minister Arvind Kejriwal last Friday had told reporters that the lieutenant governor does not agree that control of the services department should be handed over to the Delhi government and that it was the first time in Indian history that the Central government had openly refused to obey the order of the apex court.
Addressing the media after a meeting with Baijal, Kejriwal had said the L-G had sought advice from the Ministry of Home Affairs and was told that services should not be given to the Delhi government.
This would lead to anarchy in the country, Kejriwal had said.
The Delhi government had introduced a new system for transfer and postings of bureaucrats, making the chief minister the approving authority. This had come hours after the Supreme Court's landmark judgement earlier this week.  
The services department had however refused to comply and had said that the Supreme Court did not abolish the 2016 notification, which had made the MHA the authority for postings and transfers.