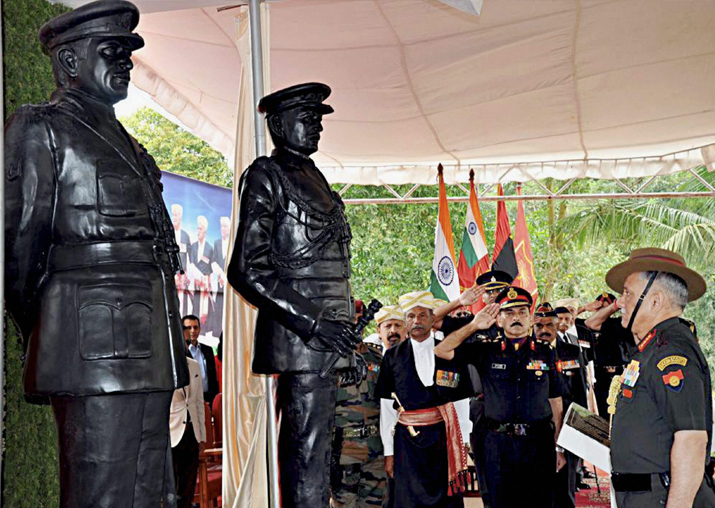 Army Chief General Bipin Rawat on Saturday said that every military has to prepare for conflict and that is its task. 
Rawat was responding to a question by reporters about Chinese President Xi Jinping asking his country's armed forces to improve their combat capabilities and readiness for war, and also his own remarks on the Doklam situation yesterday.
"Every Army has to prepare for conflict, that is the task of every Army, so there is nothing new in anybody saying it. I also have to keep preparing...in peace time we all train and prepare for any eventualities, so there is nothing new in it," he said.
Rawat had said at Belagavi in Karnataka that both Indian and Chinese troops were present in Doklam, but were not in an 'eyeball-to-eyeball' contact.
There was a military stand-off between India and China at Dokalam on the tri-junction of the Indian, Chinese and Bhutanese borders, but it had ended after 71 days in August.
Rawat was here today to unveil the statues of Field Marshal KM Cariappa and General KS Thimayya at a function held at Cauvery College, in Gonikoppal, Kodagu district. 
Cariappa was independent India's first Army Chief. Thimayya, who also hails from Kodagu district, like Cariappa, was also the Army chief.
Army Chief pitches for Bharat Ratna to Field Marshal Cariappa
General Rawat also pitched for conferring the country's highest civilian honour Bharat Ratna on Field Marshal General KM Cariappa. 
"The time has also come to recommend Field Marshal Cariappa for the award of Bharat Ratna. If others can get it, I see no reason why he should not, a deserving personality for the same. We will shortly address the issue on priority," he said. 
Gen Rawat's comments came in response to a request by Col K C Subbayya from The Field Marshal Cariappa General Thimayya (FMCGT) forum about recommending the Bharat Ratna to Cariappa, who hails from Kodagu district in Karnataka. 
Terming Kodagu (formerly Coorg) as a 'land of warriors', Rawat said that he is proud, privileged and humbled for having got the opportunity to unveil the memorial in memory of Field Marshal Cariappa and General KS Thimayya. 
Kodagu continues to serve the nation with a large number of officers and men serving the Army, he said and voiced hope that "there will be more Chiefs in the future who will rise from this great land". 
Cariappa was the first Indian Commander-in-Chief of the Indian Army and was conferred the rank of Field Marshal on April 28, 1986. He was also a recipient of the prestigious order of the British Empire (OBE) for his role in the Burma campaign against the Japanese during the Second World War. 
Cariappa also led the Indian forces on the Western Front during the Indo-Pak War of 1947. He held the five-star rank of field marshal, the highest honour in the Indian Army, which Field Marshal Sam Manekshaw is the only other officer to have held. 
Cariappa, whose military career spanned over three decades, retired from the Army in 1953 and later served as the High Commissioner to Australia and New Zealand till 1956. He died in Bengaluru in 1993 at the age of 94.