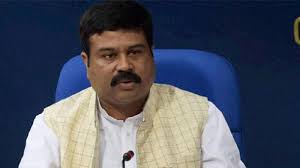 ​Union Minister for Petroleum and Natural Gas Dharmendra Pradhan today blamed the "isolated" policies of the US for the "abnormally" rising fuel prices in the international markets.
He said the Centre is concerned about the spiralling prices of petrol and diesel and is taking all measures to check them.
"Due to the isolated policies of America, the value of currencies across the world has fallen in comparison to the US dollar. India's currency has also been affected and the price of fuel has increased abnormally," he told reporters on the sidelines of a programme here.
"Both the factors -- rise in fuel prices and devaluation of rupee -- (which) are affecting the economy of India are external reasons," Pradhan added.
Petrol and diesel prices hit an all-time high in four metros across the country today, crossing the previous peak reached on May 29. The prices ranged from Rs 78.52 to Rs 85.93 for petrol and from Rs 70.21 to Rs 74.54 for diesel.
Earlier today, the Indian rupee slumped to a record low of 71 against the US dollar by falling 26 paise on persistent demand for the US currency amid rising crude prices.