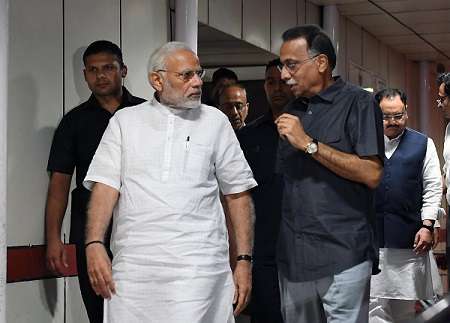 Prime Minister Narendra Modi on Monday visited Former Prime Minister Atal Bihari Vajpayee, who was admitted to Delhi's AIIMS earlier in the day after being diagnosed with urinary tract infection, for which treatment is underway. The veteran leader is being closely monitored by a team of doctors at AIIMS hospital for the infection, AIIMS said. 
"Atal Bihari Vajpayee was admitted today (Monday )at AIIMS,New Delhi for investigation & evaluation. He has been diagnosed with a urinary tract infection for which appropriate treatment has been closely monitored and treated by a team of doctor," the statement read. 
In a medical bulletin earlier in the afternoon, AIIMS had said that the senior leader was admitted for a routine check-up.
​"Former PM is stable. A team of doctors under the supervision of Dr. Randeep Guleria, Directors, AIIMS are conducting tests," a statement issued by AIIM​S. Here is a glimpse of the AIIMS statement made earlier today: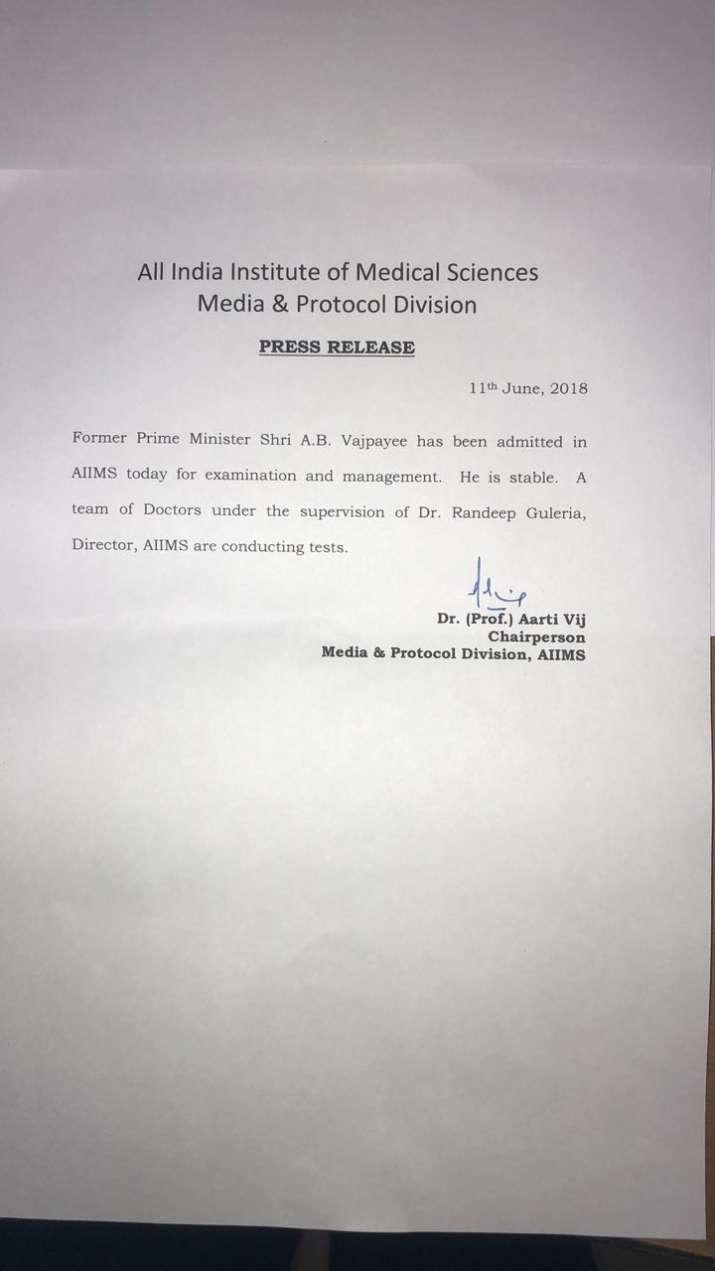 As Vajpayee remained hospitalised throughout the day, Prime Minister Narendra Modi visited AIIMS in Delhi, met family members of Vajpayee and enquired about his well-being. He was there for almost an hour. Amit Shah, Congress chief Rahul Gandhi, Health Minister JP Nadda, LK Advani, Home Minister Rajnath Singh were also among those who paid a visit to the leader. 
Meanwhile, sources say that  Vajpayee may get discharged from Delhi's AIIMS on Tuesday morning. 
A senior leader of the Bharatiya Janata Party (BJP), Vajpayee was the first non-Congress prime minister who served a full five-year term in office. Vajpayee (93) is currently the oldest living former prime minister. He was a Parliamentarian for over four decades.
WATCH VIDEO: PM Modi, LK Advani, Amit Shah, Harsh Vardhan, Rahul Gandhi and other leaders visit Atal Bihari Vajpayee