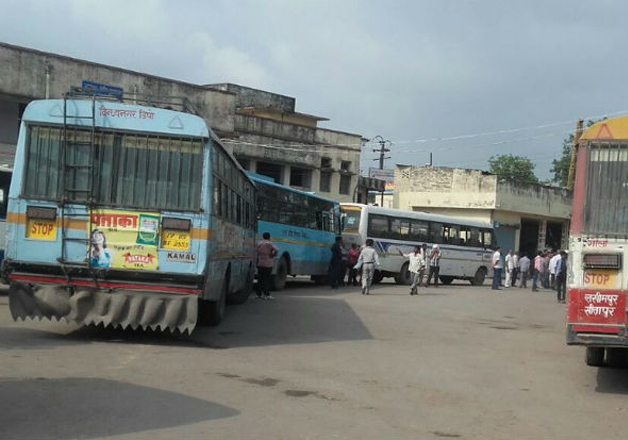 The nationwide strike called by several central trade unions has evoked a mixed response with many services including banking and transport being hit in many parts of the country.
All major unions, except RSS-associated Bhartiya Mazdoor Sangh (BMS), have joined the strike rejecting the government's assurances to look into their demands.
They have termed the government's recent announcements for two-year bonus and hike in minimum wage as inadequate.
As many as 18 crore workers are said to be participating in the strike across the nation.
In Uttar Pradesh, over 18 lakh state government employees joined the nationwide strike by major trade unions protesting against the central government's anti-labour and economic policies. The 24-hour strike was supported by the state's 250 employees union protesting the disparities in the pay commission recommendations and non-redressal of their old, pending demands.
In Haryana, the trade union's strike has evoked mixed response. Participation of many roadways union's, bankers, employees of power department at some places has disrupted normal life.
The BPO hub of Gurgaon is completely shut down. The impact of strike is maximum in Rohtak where no roadways bus is running on the road. The Haryana Roadways Employees, however, are not participating in the strike.
"The strike is on. We are getting good response. More information will pour in after sometime. Gurgaon industrial area is completely closed and the police have arrested about 12 people in Manesar area. All this information indicates that the strike will be bigger this time," Centre for Indian Trade Unions (CITU) general secretary Tapan Kumar Sen said.
Most of the private hotels and hydropower projects, banks and government insurance companies, as well as the state-owned Bharat Sanchar Nigam Ltd (BSNL), were badly hit in Himachal Pradesh.
In Odisha, normal life came to a standstill in many parts of the state due to a dawn-to-dusk bandh called by central trade unions protesting the government's 'indifference' towards their demands and effecting "anti-worker" changes in labour laws. Agitating members also resorted to rail roko at many stations across the state. All national highways across the state bore deserted look since this morning.
Their demand remains 18 thousand rupees per month and enhanced pension not less than 3,000 rupees per month for the entire working population and stoppage of disinvestment in Central/State PSUs.
In Telanagna, public road transport has been badly hit due to the nation wide general strike today. About 35 thousand employees and members of various trade unions are taking part in the strike in the state. Operations of about ten thousand buses of State Road Transport Corporation have been affected at various districts across the state. Employees of public sector units of insurance, tourism and banking are also on strike.
Banking operations, all government offices and services, the Vizag steel plant and BHEL in Tamil Nadu, and the whole of Kerala have been badly hit by the nationwide strike.
Public transport is almost completely off the roads in Kerala and is badly affected in Karnataka. Most schools and colleges in both the southern states are shut.
"Around 90 pc workers at BHEL's plant in Tiruchirapalli have not reported at work in the morning shift. Vizag steel plant is completely closed. At some places there would be instances of rail roko. This is going to be a successful strike as more than 15 crore workers will come on streets to protest," Sen said.
Low impact in Delhi, Mumbai
In Delhi and Mumbai, buses are running and essential services like power and water supply have not been affected.
In the national capital, public transport remained unaffected and State Bank of India did not adhere to the bandh unlike in other states. However in Mumbai, government banks and offices remained shut.
West Bengal has been mostly peaceful. The state government has taken all necessary steps to ensure that people reach their workplace safely and get on with their daily life normally.
Protesters, however, vandalised a North Bengal State Transport Corporation (NBSTC) bus in Cooch in Behar district. Municipal Corporation Mayor Ashok Bhattacharya was arrested along with 15 other protesters in Siliguri.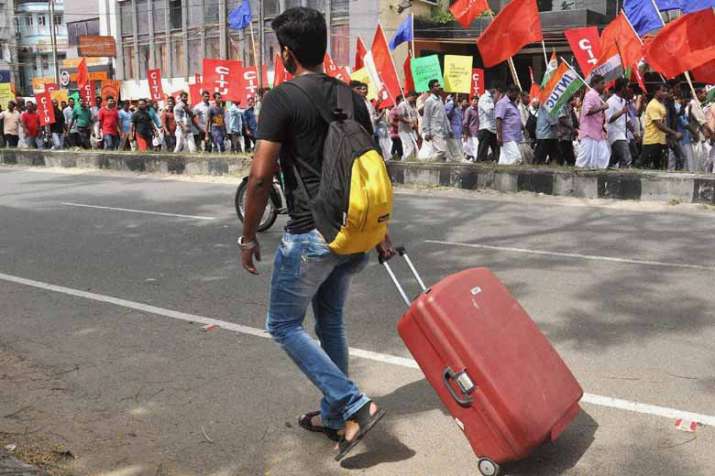 The CPI-M led Left Front government in Tripura is also supporting the strike. Shops, business establishments, markets, banks and financial institutions, government offices and educational institutions were also closed and vehicles were off the roads in Agartala. Railway services within the state and with other states were disrupted.
Trade between Tripura and Bangladesh was also affected as workers remained absent in the land customs stations along Bangladesh.