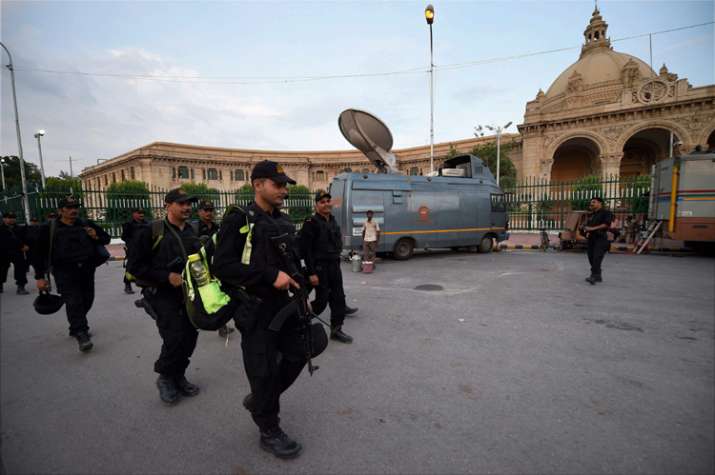 Days after explosive was found inside the Uttar Pradesh Assembly, the UP Anti-Terrorism Squad today conducted a mockdrill in the precincts of the Legislature building to plug possible loopholes in security. The mockdrill was conducted ahead of voting for the presidential poll tomorrow. According to police officials, the mockdrill was conducted to cater to any emergency-like situation, evacuate people during a critical hour and to plug possible loopholes in the security apparatus.
"A mockdrill is being conducted to cater to any emergency-like situation and evacuate people during the crictical hour. Apart from this, the mockdrill will also enable us to plug possible loopholes in the security apparatus (if any)," SSP, ATS, Umesh Kumar Srivastava told PTI.
Apart from ATS commandos, UP police personnel and fire brigade staff were also spotted in the UP legislature building.
"The ATS will give its detailed report to DGP about the shortcomings it has found in the drill. These cannot be made public otherwise terrorists and criminals might take advantage," IG ATS, Asim Arun said after the exercise was conducted.
The Uttar Pradesh Police had already put in place anti- sabotage measures apart from sounding a high alert as the ATS started recording statements of employees of the Assembly in connection with the recovery of PETN (Pentaerythritol tetranitrate) explosive. 
About 150 grams of PETN was found wrapped in a paper close to the seat of the Leader of the Opposition Ram Govind Choudhary in the Assembly on Wednesday, Chief Minister Yogi Adityanath had said on Friday, describing it as a "dangerous terror conspiracy". 
Yesterday, officials of the ATS questioned and recorded statements of 15 people who were present or were on duty in the premises of the Assembly at the time of recovery of PETN on July 12. 
Those who were questioned included the assistant marshals, technical staff and security personnel. Besides, the ATS also looked into the details of CCTV footage of 23 cameras of which 12 are in the Assembly and is also studying the Doordarshan recording, he said. 
Additional Director General of Police (Law and Order) Anand Kumar had earlier told PTI that all the anti-sabotage measures have been put in place, apart from sounding a high alert. 
"As immediate measures, Quick Response Teams, ATS and additional PAC personnel have been deployed in the UP Legislature. Apart from this, security audit of the entire Assembly complex is being done. An integrated security plan is being deliberated upon, which will ensure effective liasion with Sachivalaya Suraksha Dal," Kumar said. 
Entry on old passes has been disallowed, and people with bonafide passes are only allowed to enter the precincts. 
As many as 109 close-circuit television (CCTV) cameras have been made functional, so as to increase the vigil.
ATS sources said three teams of ATS will remain posted in the UP Legislature Complex. 
(With PTI inputs)