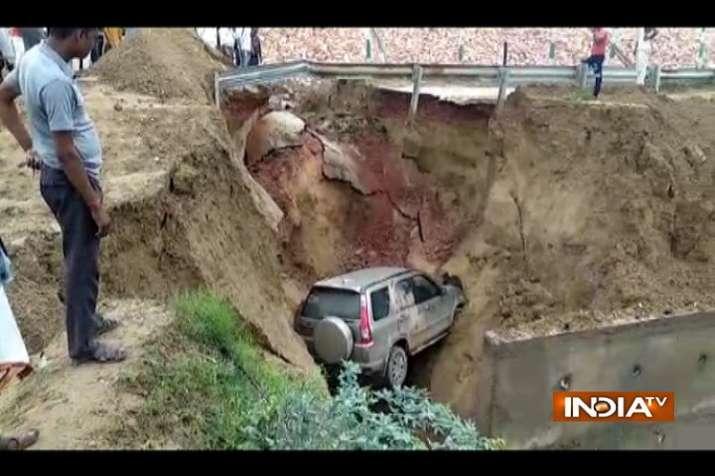 Four people of a family going from Mumbai to Kannauj had a lucky escape when the SUV they were travelling in fell into a 50-feet deep ditch after a section of the Agra-Lucknow Expressway caved-in near Dauki police station. 
The incident took place when Rachit, a resident of Kannauj, was returning to his native place from Mumbai along with other members of his family. Rachit said he was driving with the help of Google Map on his mobile phone.
However, as the battery of his phone dried up he entered a service lane of the highway. By the time he could realise that there was a huge crater ahead, his SUV fell into it. 
Locals and police pulled out the occupants of the car. Luckily, no one was seriously injured in the accident.
The Agra-Lucknow Expressway, which is touted as former UP CM Akhilesh Yadav's dream project, was built at an approximate cost of Rs 13,200 crore. The 303-km expressway was inaugurated by Akhilesh Yadav on 21 November 2016, months ahead of the Assembly elections to project it as the flagship model of development in the state under his rule. 
Meanwhile, Uttar Pradesh government has ordered a probe to look for the cause of the cave-in. 
"A third-party probe has been ordered into the caving-in of the side road of the expressway (16 km from Agra towards Lucknow) by RITES Limited. The construction of the damaged road will be done by the construction agency at its cost," Uttar Pradesh Expressway Industrial Development Authority (UPEIDA) Chairman Avanish Awasthi said.
WATCH: Section of Agra-Lucknow Expressway caves-in