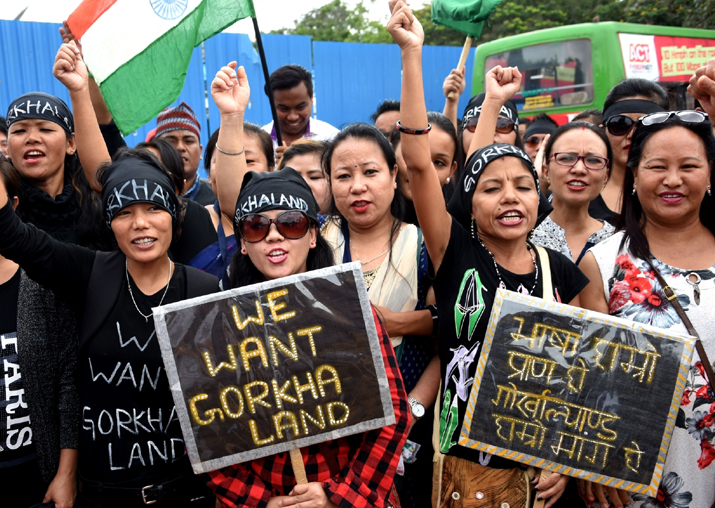 The Gorkha Janmukti Morcha (GJM) on Tuesday announced the withdrawal of its indefinite shutdown in the northern West Bengal hills, and that the situation would return to normalcy from 6 am on Wednesday.
The announcement came hours after Union Home Minister Rajnath Singh appealed to them to call off the over three month-long strike and invited them for talks to find an amicable solution to the issue.
GJM Assistant General Secretary Jyoti Rai said, "After Rajnath Singh's appeal, we had a discussion with senior leaders, including GJM chief Bimal Gurung, and decided to withdraw the shutdown from 6 a.m. tomorrow (Wednesday)."
The GJM had called the shutdown demanding a separate state of Gorkhaland.
Rajnath Singh has also asked the Union Home Secretary Rajiv Gauba to convene an official-level meeting to discuss all related issues. In a statement, the Home Minister said that in a democracy, dialogue is the only way out to resolve any problem and solutions can be found through restraint and mutual dialogue within the legal ambit. 
The indefinite strike called by the GJM has continued since June 12 though its rebel leader Binay Tamang had announced suspension of the bandh. On September 20, the West Bengal government announced the constitution of a nine-member board of administrators with the same powers as Gorkhaland Territorial Administration (GTA) which is headed by GJM chief Bimal Gurung. 
Rebel GJM members Tamang and Anit Thapa were made the chairman and vice chairman of the board respectively. The state administration last night decided to lift the restrictions on use of internet services in Darjeeling and Kalimpong, which were imposed on June 18.