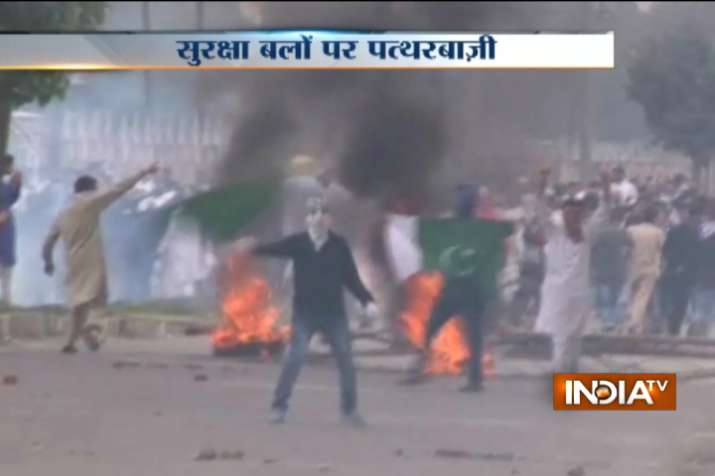 Eid-ul-Fitr celebrations across the Valley in Jammu and Kashmir were marred by clashes between protestors and security forces in many parts, injuring around 20 people. 
Five policemen, including a senior officer, were injured in the south Kashmir town of Anantnag after protesters took on the security forces in Janglat Mandi area immediately after Eid prayers.
The clashes, with mobs of young men hurling stones at security forces, then spread to adjoining Achabal area in Anantnag district.
Similar street fighting also broke out in Kulgam, Shopian and Pulwama towns in southern Kashmir.
Two Central Reserve Police Force (CRPF) troopers were injured in Srinagar's Old City area where youths threw stones at security forces.
Similar clashes were reported from north Kashmir's Sopore and Pattan towns too.
The security forces used tear smoke shells and pellet shotguns to disperse the protesters. Witnesses and official sources said over a dozen demonstrators sustained injuries in the action by the security forces.
"The security forces are exercising maximum restraint while dealing with the stone-pelting mobs," a senior police officer here said.
According to a Hindustan Times report, people raised pro-freedom slogans after the Eid prayers at some of the major Eidgahs in south Kashmir. Also, pictures purportedly from south Kashmir depicting banners hailing militants including Hizbul Mujahideen commanders Wani and Sabzar Bhat also went viral on social media.  
Eid prayers elsewhere in the Valley ended peacefully. Chief Minister Mehbooba Mufti offered Eid prayers at a mosque in the high security Sonawar area in Srinagar.
A large number of devotees prayed at the Hazratbal and other mosques and Eidgahs in the Valley.
For security reasons, many ministers and senior civil and police officers offered prayers at the district police lines mosque here at 6.30 a.m.
Jammu and Kashmir's Inspector General of Police on Sunday issued an advisory, asking VIPs to offer Eid prayers only at secure places and to avoid public places.