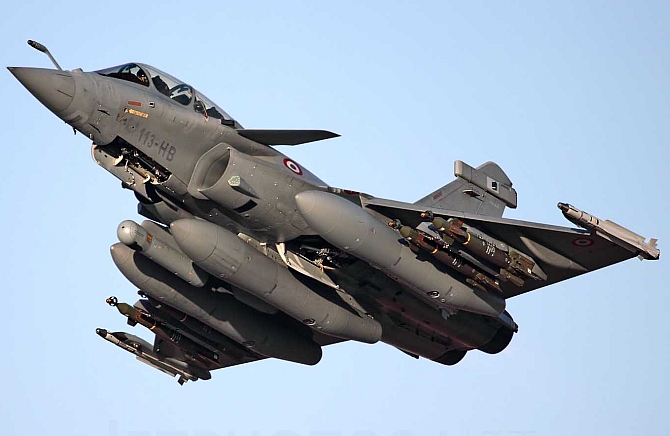 Equipped with latest missiles and weapon systems, Rafale, the "gust of wind" and "burst of fire", is well known for its air supremacy, in-depth and anti-ship strikes and nuclear deterrence missions.
India on Friday signed the much-awaited deal with France to buy 36 Rafale fighter jets worth Rs 59,000 crore (7.87 billion euro).
The deal is crucial for the Indian Air Force as it will give India a dominant status in the air.
Here are some key factors that put the jet's strength into better perspective:
Here are key points explaining the strength of Rafale jet:
1. Available in three main variants, viz., the land-based Rafale C single-seat and Rafale B twin-seat versions and Rafale M single-seat carrier-based versions, the Rafale has been used in combat over Afghanistan, Libya, Mali, Iraq and Syria.
2. The Rafale can touch speeds of Mach 1.8 (1,912 km/h) in high altitude and Mach 1.1 (1,390 km/h) in low altitude. The Rafale C, Rafale B and Rafale M variants can carry loads of 9,850 kilograms, 10,300 kilograms and 10,600 kilograms respectively.
3. Great emphasis has been placed on pilot workload minimisation across all operations. Among the features of the highly digitised cockpit is an integrated direct voice input (DVI) system, allowing a range of aircraft functions to be controlled by spoken voice commands, simplifying the pilot's access to many of the controls.
4. The Rafale can carry more ordnance than any of its competitors, hands down. By contrast, the F-35 can carry only 4 munitions (e.g. missiles) while in its stealthy mode; the F/A-18E/F Super Hornet and the F-16 can carry only 11, and the Su-35 twelve.
5. The Rafale has the biggest gun on the market, equally placed with Sukhoi aircraft. It is laced with a hefty 30mm GIAT gun firing incendiary rounds. This makes the Rafale an excellent choice for both air to air and air to ground combat, as its 30mm rounds would provide excellent support for troops on the ground.
6. The Dassault Rafale is a relatively small, light airplane, which makes its wing loading ratio (the ratio of its weight compared to its wingspace) just 306 kg/sq m, the second lowest ratio on the market after the JAS-39 Gripen. Its combat radius is also impressive – 1,852 kilometers, again, the second-best in the market trailing only the F-15C/D. The Rafale also has an excellent rate of climb – 304 m per second, which means the plane can climb to its service ceiling (55,000 ft) in a minute.
7. Its speed of Mach 1.8, compared to Mach 2 or more for most other fighters could be one let down, but it fares better when compared to its principal competitor, the F-35, which is much worse at just Mach 1.61. This, however, is the product of a deliberate design aimed to optimise the Rafale for close, within visual range combat.
8. Rafale jets will come equipped with state-of-the-art missiles such as the Meteor and Scalp. With these missiles, Rafale will be a big strategic weapon under IAF's umbrella. The Rafale is equipped with an RBE2 passive electronically scanned radar developed by Thales and has both look down and shoot down capabilities.
9. The Rafale engine features several advances including a non-polluting combustion chamber, single-crystal turbine blades, powder metallurgy disks, and technology to reduce radar and infrared signatures.
10. According to Dassault, the Rafale has sufficient low speed performance to operate from STOBAR-configured aircraft carriers, and can take off using a ski-jump with no modifications. However, industry sources have highlighted the high cost its operational cost, which hovers above the Rs 11 lakh range for every flight-hour.