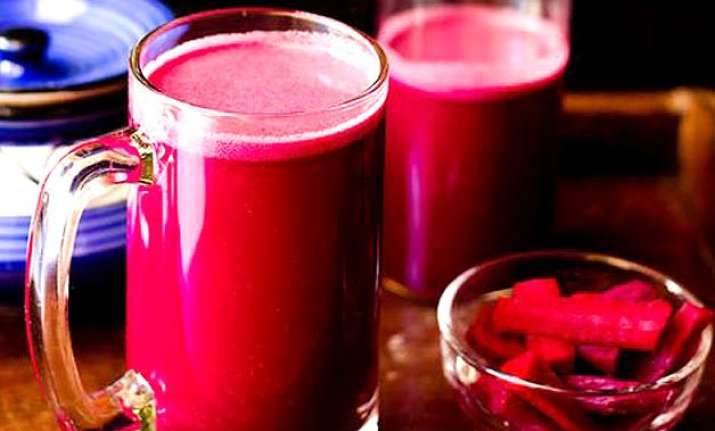 Six easy steps to make carrot Kanji
New Delhi
: Holi delicacies are in themselves delights to have. While the entire mood is drenched in vibrant shades of traditions and fun, the festival holds a separate and quite rich a legacy in terms of the food it offers to relish.
And amid various quintessential drinks and sweets, 'Kanji' or fermented black carrot mustard drink is one of the authentic drinks one can savour giving much pleasure to his/her taste buds.
As spicy and sour it is, Kanji is great to provide a sleek balance to your body too whether you are getting ready or done with the entire playful attitude on Holi.
Here follows an easy recipe to make this ultimate drink. Have a look to sip on this deliciously mouth watering Holi special item…
Ingredients
2kg black carrot
5 Litre water
50gm black mustard seeds (rai)
4 table spoon salt
½ spoon black salt
1 table spoon red chilli powder
Method
1. Chop black carrots in pieces (cylindrical in shape or as desired) and boil them in water till it get slightly soft. (Note: do not over-boil the carrots and remove from burner once the water gets lukewarm)
2. Add black mustard seeds (rai), salt, black salt and chilli powder in water and mix them all well.
3. Pour the entire liquid mixture in a jar and keep it in sunlight. Keeping the mouth of the jar open is not required.
4. If there is good sunlight, 'Kanji' will get ready in a period of 2 or 2 ½ days. However, if you are struggling with the sunlight, keep the jar in daylight or inside the house for at least 5 days.
5. Do not forget to swirl the mixture at regular interval of times. You can use any big spoon to churn the liquid between every 6-8 hours.
6. Keep tasting the liquid for checking onto the availability of perfect salt or spice into it.
Serve the beautifully coloured liquid to your guests.