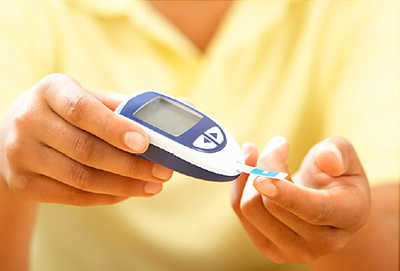 Our Ayurveda has the remedy for all types of diseases including Diabetes. Ayurveda is widely recommended to control blood sugar and to ease the symptoms of Diabetes. 

Diabetes is usually caused by unhealthy lifestyle and poor diet. So, it is important for you to maintain a healthy lifestyle which includes a proper diet. If you're suffering from diabetes and want to reduce the symptoms in a couple of months, follow this Ayurvedic home remedy. 
Things you'll need: 

½ cup chopped Okra (Lady' Finger) 

2 tablespoon Ginger Juice 
Method of Preparation 

Add the mentioned quantities of ingredients in the blender. Add some water. Grind them well to get a liquid. 

Now strain the liquid and you'll get a clear juice. 

Drink this juice before breakfast every day. Continue this remedy for till you see the difference in your blood sugar. 

This is a home remedy. You should maintain your fat-free sugar-free diet along with a workout regime to control your blood sugar.