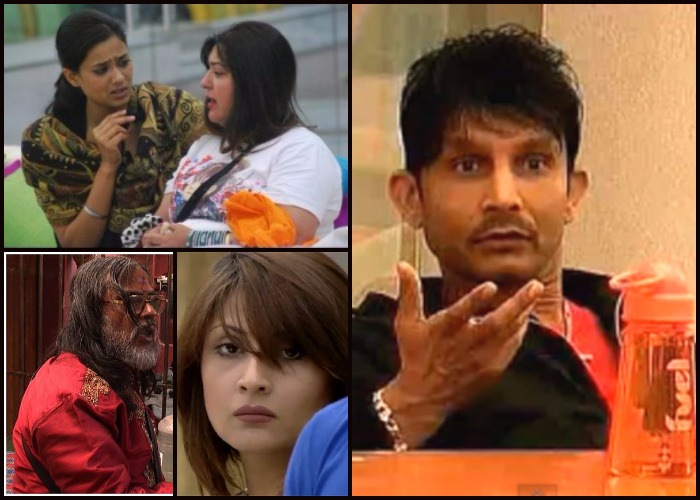 Bigg Boss is synonymous to fights, controversies and brawls. It has been less than a month since Bigg Boss 11 started and the audience has witnessed a huge load of fights between Hina and Arshi, and Vikas and Shilpa. Some fights appear to be genuine while some are just to garner more footage and TRP. Contestants follow the adage 'Jo Dikhta Hai Wahi Bikta Hai' way too seriously. In fact, some contestants have risen to stardom only because of controversies they've created whilst in the house. Let's take a look at top controversies and fights which have made Bigg Boss one of the most controversial reality TV show ever.
Dolly Bindra's fight with Manoj Tiwari and Shweta Tiwari
Dolly Binda and her over-aggressive behaviour is nothing new to us. She made this dialogue 'Baap pe mat jaana' famous overnight with her brawl with Bhojpuri actor Manoj Tiwari, while having a fight over eggs. She also involved into physical fight with actress Shweta Tiwari and also bruised latter's hand badly.
Swami Om urinates on Bani and Rohan
Undoubtedly, Swami Om is the most controversial contestant Bigg Boss has ever seen. (Let's see if anyone takes away the title from him this season.) The self-styled Godman was extremely abusive to the women in the house. In one such incident, he threw his urine on his fellow contestants, Bani J and Rohan Mehra. He was immediately evicted after this infamous incident.
KRK throws bottle at Rohit Verma
KRK has tried way too hard to get some spotlight in Bigg Boss house. In Bigg Boss season 3, he got into an argument with designer Rohit Verma. As a result of this, KRK hurled a bottle at Rohit, which led to his immediate eviction.
Imam Siddiqui's brutal remark on Urvashi Dholakia's parenting skills
Imam Siddiqui is one of the most headline-grabbing contestants of Bigg Boss. From saying 'time out' to host Salman Khan to claiming that he made Shah Rukh Khan a superstar, he did everything it took to court controversies. Imam, during his tenure in the house, got into fights with Urvashi Dholakia very often. In one such fight, he commented on Urvashi's parenting skills, leaving her in tears.
Prince Narula and Rishabh Sinha's ugly brawl
Prince Narula and Rishabh Sinha, both being part of Splitsvilla, didn't like each other. They had daily arguments and fights. But things got out of hands when Prince made Kishwer Merchant walk like a dog for three hours during a task. This was followed by an argument so ugly, that most of the words were muted abuses.
More additions to this list are expected as the current season rolls out.