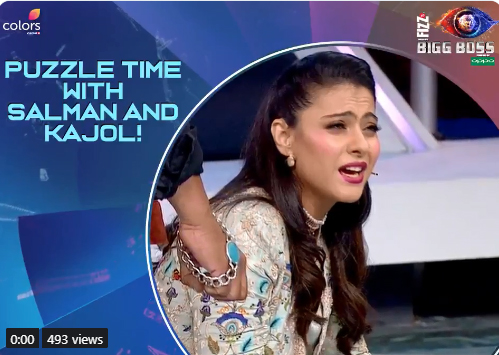 The Weekend Ka Vaar episode of Salman Khan's controversial reality show was an interesting one as Bollywood actress Kajol visited the show to promote her film Helicopter Eela on Bigg Boss 12. The show host Salman was also seen playing puzzle with Kajol. Meanwhile, Kajol entered the Bigg Boss 12 house to have some fun moments with the housemates. Salman lashed out at Bigg Boss 12 contestants Saba Khan, Srishty Rode and Shivashish Mishra. He even threatened them to throw out of the house if they get indulged in any physical fight again. Shivashish was later send to the torture room for not accepting his mistake. Salman revealed that the eviction will be done tomorrow.
Watch Bigg Boss 12 Bigg Boss 12 October 13 Weekend Ka Vaar Highlights:
10:25 pm: Salman asks Kajol to meet the housemates. She enters the BB house. Salman says the eviction will be done tomorrow.
10:05 pm: Salman says he will quit the show, if contestants will indulge in an physical abuse with each other. Housemates send Shivashish to the torture room. Salman welcomes Kajol in the Bigg Boss 12 house. He along with Kajol promote her Helicopter Eela. Both Salman and Kajol can further be seen playing puzzle. Kajol successfully completes the puzzle.
9:48 pm: Salman asks Karanvir to tell who among Srishty and Saba was wrong during the captaincy task. Salman lashes out at Saba and Srishty for physical abuse. Jasleen says Srishty was playing in a aggressive way and she started the fight. Salman warns Srishty and says he will throw her out of the house if she will repeat the same.  
9:40 pm: Salman says Saurabh was equally involved in the planning and plotting with Shivashish. Salman asks clarification from Shivashish. Salman instruct housemates to make Shivashish realise about his mistake. Shivashish denies to say sorry and says he is not at fault. 
9:30 pm: Salman asks Surbhi why she said that singles are not allowing Sreesanth to play. Dipika says she evicted Sreesanth as he wanted to go home. Dipika says Sreesanth never overpowered singles. Urvashi and Deepak call Dipika's decision wrong. Salman asks Deepak to sing the song which he composed for Sreesanth. Sreesanth gets emotional. Salman asks to play ''Mai Aisa Kyu Hu'' song for Karanvir. Salman lashes out at Shvashish for getting physical during the captaincy task.
9:20 pm: Salman greets Happy Navartri to all the housemates. He talks to the nominated contestants Nehha and Karanvir. Surbhi explains why she gave the ''clever'' tag to Dipika. She says Dipika is playing fake. Dipika says she is not fake and is very much like her on-screen character Simar. Salman takes Dipika's side and asks her to take clever as a compliment. Salman dedicates a song ''Dushman Na Kare'' for Nehha. Salman asks Dipika why she nominated Sreesanth during the mid-week eviction. Romil calls Dipika's decision wrong.  
9:12 pm: Salman asks Sreesanth and Anup about the morning task. Salman discusses Dipika's voting and Sreesanth's eviction with Anup. Anup says Dipika is playing fake. Sreesanth says Dipika was trying to control Nehha. Anup says Dipika is a clever girl. Salman asks Sreesanth about his future game strategies. Salman praises Sreesanth. 
.@sreesanth36 justifies why he titled @ms_dipika as shaatir! #BB12 #BiggBoss12 #WeekendKaVaar@oppomobileindia

— COLORS (@ColorsTV) October 13, 2018
9:00 pm: Salman Khan shows a short glimpse of this week episodes of Bigg Boss 12 show. Salman talks about Dipika's melodrama and mid-week eviction. He talks about todays's task and eviction. Housemates can be seen indulging in a heated argument during today's task.During the task, Saba was nominated for the tag double standard. Surbhi was nominated for the tag villain. Salman talks about Sreesanth and Anup Jalota and their responsibilities. Sreesanth says the fool tag suits Nehha. Sreesanth says Romil is the biggest planner. Sreesanth and Anup say Saurabh deserves double standard tag. The clever tag suits Dipika according to Sreesanth and Anup. 
.@anupjalota aur @sreesanth36 ko lagta hai ki double dholki hai #SourabhPatel kyunki woh captaincy mein hui cheating ke baare mein jaante the! #BB12 #BiggBoss12 #WeekendKaVaar

— COLORS (@ColorsTV) October 13, 2018
8:30 pm:
#WeekendKaVaar gets more entertaining when @KajolAtUN solves an exciting puzzle with @BeingSalmanKhan. Tune in tonight at 9 pm. #BiggBoss12 #BB12 pic.twitter.com/wQfRWJ7doc

— Bigg Boss (@BiggBoss) October 13, 2018
8:25 pm:
.@BeingSalmanKhan hue gussa contestants ke violent behaviour se, deni padi unhe sabko ek tagdi warning. Catch all the drama tonight in #WeekendKaVaar at 9 pm. #BiggBoss12 #BB12@iamappyfizz @oppomobileindia @TheGarnierMan @letsdroom pic.twitter.com/eTaln9EIHL

— COLORS (@ColorsTV) October 13, 2018
8:20 pm:
Contestants ne diya @KajolAtUN ke teekhe sawaal ka jawaab. Jaanne ke liye dekhiye #WeekendKaVaar aaj raat 9 baje. #BiggBoss12 #BB12 pic.twitter.com/tJNn3eeU2O

— Bigg Boss (@BiggBoss) October 13, 2018