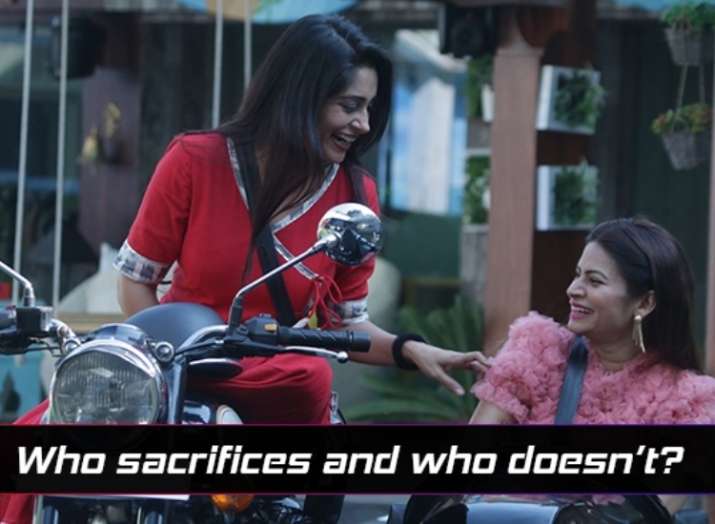 After a fun-filled Weekend Ka Vaar episode with Salman Khan, housemates gear up for the nominations special. This week, Bigg Boss will test the friendships of the contestants as he will ask them to sit on the famous Jay-Veeru bike and decide who should get nominated amongst the two. On the other hand, Romil Chaudhary has won the Immunity Medallion and has the power to be immune from the nominations task. While the fear of getting evicted grips housemates, love is in the air as Rohit Suchanti starts to feel for Srishty Rode. However, Somi Khan asks Deepak to keep his love and friendship aside. She doesn't spare Deepak and tells him that 'dosti ek taraf, competition ek taraf hai'. Will the nominations task make new enemies in the house?    
The Nomination Special is here and it's all set to create chaos in the #BB12 house. Kaun karega kiska sacrifice khud ko nominations se bachaane ke liye? Find out tonight on #BiggBoss12 at 9 PM. pic.twitter.com/vr6ksjNCCj

— COLORS (@ColorsTV) November 12, 2018
Here are Bigg Boss 12 Day 57 Highlights:
10:00 pm- Karanvir Bohra and Sreesanth lock horns yet again. On the other hand, Megha shouts on Romil as she thinks he deserves the punishment. She also tries to help Sreesanth in his punishment and Deepak makes fun of her. This makes Megha angry and she threatens to hit Deepak with a broom. As Megha showers her wrath on Deepak, all housemates make fun of everything she is saying. This angers her more. 
.@sreesanth36 and @KVBohra get into a heated argument due to the punishment! How will the housemates react to this? #BB12 #BiggBoss12

— COLORS (@ColorsTV) November 12, 2018
09:45 pm- Jasleen talks with Sreesanth and tells him that she will not give up. The next jodi is Srishti and Jasleen. Both stand for their safety and does not come to a conclusion. Both Srishti and Jasleen get nominated. Shivashish and Rohit fight for their safety. Shivashish and Rohit Suchanti get nominated as well. Deepak, Sreesanth, Dipika, Srishti, Jasleen, Shivashish and Rohit are nominated. Rohit is found sleeping which leaves Bigg Boss furious and gives strict punishment. Bigg Boss asks Karanvir to give two names who have broken the maximum number of rules and will face the punishment. Captain KV names Sreesanth and Rohit. Deepak shouts on Surbhi as she didn't name anyone from Sreesanth and Romil for punishment.
#JasleenMatharu ne #BB12 mein @SrSrishty se kaha ki agar nominate honge toh woh dono honge lekin woh give up nahi karengi! #BiggBoss12 @Chingssecret pic.twitter.com/XXSk7sLlJc

— COLORS (@ColorsTV) November 12, 2018
Captain @KVBohra ke kehne par @sreesanth36 aur @imrohitsuchanti ko mili #BB12 ke ghar mein bartan saaf karne ki saza. #BiggBoss12

— COLORS (@ColorsTV) November 12, 2018
09:30 pm- First jodi to sit on the bike is of Somi and Deepak. While Somi asks Deepak reason why he should be nominated, Deepak asks Somi to wear the helmet and stay safe from the nominations. Deepak gets nominated. Next jodi is Sreesanth and Surbhi. Sreesanth gives the helmet to Surbhi and saves her. Next is Dipika and Megha. Dipika pays back Megha and saves her from nominations. 
#DeepakThakur kar rahe hain #SomiKhan ka support aur unhone de diya helmet! Kya ho jaayenge woh nominate? #BB12 #BiggBoss12 pic.twitter.com/79BuHBUkiv

— COLORS (@ColorsTV) November 12, 2018
Next up are #SurbhiRana and @sreesanth36! Who do you think is going to be safe? #BB12 #BiggBoss12 @BigMusclesNutri pic.twitter.com/GktPzeqluD

— COLORS (@ColorsTV) November 12, 2018
09:20 pm- Srishty confronts Rohit about why is he talking to Dipika about her. She makes it clear with him that nothing can happen between them, romantically. Next day, housemates wake up to the famous song 'Ye dosti hum nahi todenge'. Before nominations task, Rohit's imprisonment ends. Bigg Boss asks Dipika to narrate the rules of the nominations task.  
.@SrSrishty aur @imrohitsuchanti get into an argument and she starts crying! Catch all the drama now. #BB12 #BiggBoss12

— COLORS (@ColorsTV) November 12, 2018
09:10 pm- Rohit Suchanti tries to break out of the jail, after which Bigg Boss scolds them for breaking the rules. The luxury budget of the housemates is made zero for breaking the rules and also stretches Rohit's imprisonment to infinity. On the other hand, Srishty and Surbhi discuss how difficult it is to stay in the Bigg Boss house and be in control all the time. Surbhi is afraid to control her emotions in the house. Sreesanth tries to talk to Dipika but she ignores him. Rohit Suchanti, who is in jail, talks to Dipika about Srishty. Also, Jasleen teases Rohit with Srishty's name.
#SurbhiRana gets emotional in the #BB12 house and @SrSrishty tries to console her. #BiggBoss12

— COLORS (@ColorsTV) November 12, 2018
For all the buzz related to Bigg Boss 12, Click here
More Bollywood stories and picture galleries
For all latest news and updates, stay tuned to our Facebook page