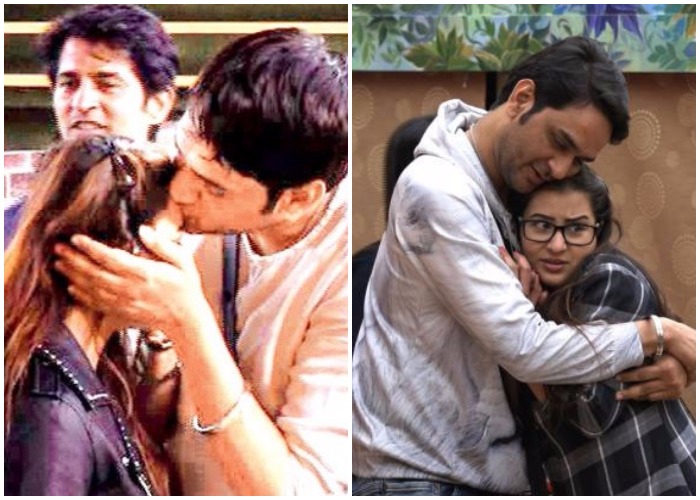 If you're reading this post, then most probably you're a Vikas Gupta and Shilpa Shinde fan. Isn't it? Vikas and Shilpa, right from the beginning of Bigg Boss 11, are the most talked about contestants of the season. When the season started, they were making headlines for their cringe-worthy fight, which many fans found to be entertaining. As the days passed by, the arch-rivals Shilpa Shinde and Vikas Gupta hopped on the same wagon and made peace with their pasts. It was then Team Shilpa vs. Team Hina in the house. After they settled their disputes, ShiKas (That's what fans are calling Vikas and Shilpa on social media) were seen sharing not one but many adorable moments together. Amidst all the negativities surrounding some of the Bigg Boss 11 contestants, let's take a moment to glance at the positivity Shilpa and Vikas' camaraderie has to offer.
In a video shared by a fanpage on Twitter, Shilpa Shinde and Vikas Gupta are seen indulged in a casual conversation about Marathi actresses. Vikas is heard saying that he finds Marathi actresses tad beautiful. FYI, Shilpa Shinde is also a Marathi actress. (Wink Face)
Was @lostboy54 indirectly trying to say #ShilpaShinde is beautiful! 🙈#ShiKas ❤#BB11 #BiggBoss11 pic.twitter.com/sJlSdLnGGq

— RUKHSAR (@being_rukhsarr) November 30, 2017
This is what happens when Vikas and Shilpa try to have a serious conversation. A conversation turned out to be funny when Vikas accidentally disarranges the mouthwash bottles kept in the washroom cabinet. The duo then starts discussing how they used to do monkey business in their school days.
When a serious discussion turned into a funny and cute one ❤️#ShiKas#ShilpaShinde #VikasGupta #BB11 #BiggBoss11 pic.twitter.com/P35ZWcfHMe

— V¡ps.🌻🌟💥 (@Viipra) November 30, 2017
This is my personal favourite video where Shilpa Shinde, Vikas Gupta and Puneesh Sharma are discussing their respective drivers. Vikas is talking about the tantrums his driver Ram Ji throws while Shilpa talks about her loyal driver Shafi.
Don't forget the video of the day! Shilpa Shinde could have suffered an 'OOPS' moment if it wasn't for Vikas Gupta. She was sitting at the edge of a couch when she lost her balance. This disarranged her clothes but Vikas and Puneesh rushed to her rescue on time. The trio then laughed their heart out at the entire incident.
#Shilpa: main aapka yeh ehsaan zindagi bar nahi bolungi...do din ka TV show karungi.#Vikas: Nahi… aap bas Mujhse shaadi karlo.. saab ehsaan chukadogi 😂😂

That's basically wht Gupta ji was trying to say.🙈🙈 😂😂 Dyaan se dekho...#Shikas #VikasGupta #ShilpaShinde #BB11 pic.twitter.com/taDdz8UPeD

— ●P o o j a● (@PoohBaniParvati) November 30, 2017
Some crazy fans have made romantic videos out of Vikas Shilpa conversations. Here's just a gist of it.
Going by the popular trend, Vikas Gupta and Shilpa Shinde continue to enjoy the strongest fan base outside the Bigg Boss house. Not only the viewers, but many industry insiders are backing Shilpa Shinde and Vikas Gupta, and are hoping one of them wins the Bigg Boss winner title. Evicted contestant Benafsha Soonawalla also roots for Shilpa, Vikas and Hiten as her favourite contestants.
A recent buzz is saying that Shilpa Shinde and Vikas Gupta are going to take wedding vows on the Bigg Boss sets. But before you jump to any conclusions, let us clear that it's going to be task where Vikas and Shilpa's wedding will be staged. The housemates will be divided into Ladkawalas and Ladkiwalas. It's going to be fun. But the makers have not confirmed the task yet.