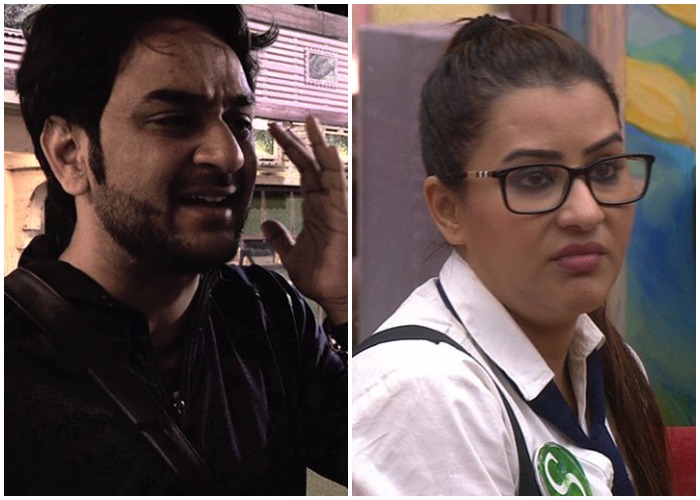 Bigg Boss is getting exciting day by day with more and more housemates turning up against each other. This week Shilpa Shinde and Vikas Gupta's antics kept the audience glued to the television. Twitter started taking sides and found themselves divided among Team Shilpa and Team Vikas. Many people including ex-Bigg Boss winner  Gauhar Khan slammed Shilpa for her inhumane behaviour towards Vikas. After Vikas' third attempt to escape the house and Shilpa's atrocities towards him, fans were looking forward to Salman Khan's Weekend Ka Vaar. Let's see who got slammed by host Salman this week.
In the beginning of the episode, Salman Khan is seen applauding Vikas Gupta's patience and asked Shilpa Shinde not to make personal remarks on national television. Gupta complained to Salman that this woman has ruined his life and also accused her of making an MMS of her. Khan, in turn, refuted the matter by saying that the two have been entertaining the people the most.
Salman Khan rebuked Vikas Gupta for being a coward to run from the game. He reminded him the way he asked Puneesh Sharma to pee in the task for captaincy and reprimanded him for his escapist attitude. Vikas argued that he doesn't want to do such things on national television so he thought it was best for him to quit the game.
On being questioned that what would he do if there were no cameras around him, Vikas said that he would tie Shilpa Shinde and ask her what her problem is. He also went on saying, 'Cameras hain toh koi sach nahi bolta'.
Salman Khan took Shilpa Shinde's side and said, "Aapki kahani me dono ki galti hai. Aapne decision liya and uske karan, she didn't get work for two years. Kadwahat to hogi hi, it is natural."
Salman Khan asked Vikas Gupta about the casting couch incident which Shilpa Shinde kept on hinting. To this Vikas argued that he was in a relationship but after the breakup, the person blackmailed him and went to the cops. Someone he trusted betrayed him.
Salman advised rest of the housemates to stay out of Shilpa-Vikas's fight. He said, "They are using personal stuff to make this show about Vikas and Shilpa. Everyone should stay out of it. Vikas, you are in a commanding position outside the house so you are not used to being answered to. Here, you are all equals so you are getting answers inside the house and you are unable to handle it all."
.@beingsalmankhan gives his verdict on Vikas vs Shilpa! Tune in at 9pm to find out what it is. #WeekendKaVaar pic.twitter.com/eShydyMkB9

— COLORS (@ColorsTV) November 4, 2017
Salman Khan even mockingly asks Shilpa Shinde and Vikas Gupta to marry each other. He also went on saying that if your marriage is successful then I will also consider getting married myself. However, all this conversation took place in a joking manner.
Hina explained how Shilpa Shinde and Vikas Gupta both were an absolute dud in the cushion making task. Shilpa handed over all the money to Akash Dadlani while Vikas Gupta lost the luxury budget for his personal gains.
Bigg Boss makes the lives of the contestants who've constantly broken the #BB11 house rules a living hell. #WeekendKaVaar pic.twitter.com/MH4iwRTSAG

— Bigg Boss (@BiggBoss) November 4, 2017
The episode ends with a mushy sequence between Puneesh and Bandgi. He confessed his love for her and asked her for a kiss.