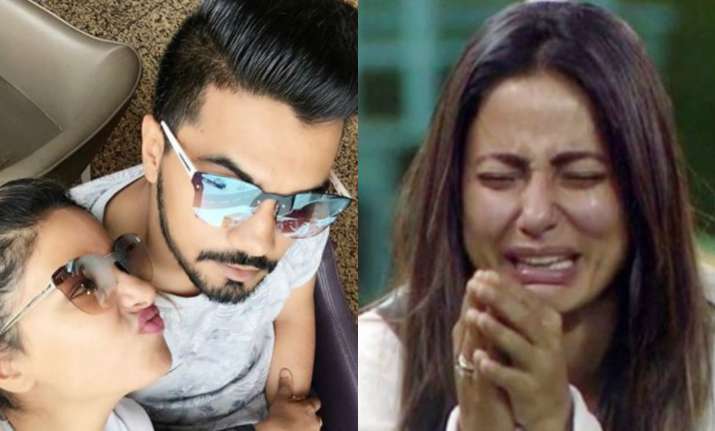 Reality show Bigg Boss is getting more entertaining with each passing day. TV's one of the most loved bahus, Hina Khan who is generally believed to be sweet and cute shocked her many fans with her attitude inside the house. Recently, the contestant has been facing a lot of backlash after her strategy in Mission Bigg Boss 11 backfired and prize money for the winner became zero.
The actress who is now in the bad books of many viewers broke down after she realised that because of her the winning amount is now nil. She cried her eyes out on national television and this disturbed many including her boyfriend Rocky Jaiswal. He was worried after seeing Hina crying inside the house and hence shared a long post slamming her haters.
Rocky's post begins as, ''I miss her and Of course it's difficult to see her going through such heart wrenching moments but that's what makes her a human being. @realhinakhan being what she is never said that someone else is jealous of her or insecure because of her popularity, even when she was showered abuses and cornered she fought back but never abused''.
He then went on to add, ''She never tried to escape the house. She doesn't let go any tasks n gives her best which usually becomes the top standard in the house. She never shy's away from standing for what's right just because she's a celeb or is a target. Some #hinahaters r supporting insane people, actors who were banned by their own association, people who want to strip on YouTube if Pakistan wins, people who r getting physical n acting to be in a relationship just to stay longer. HOW? HOW can u be so blind? Last year commoners were actually entertaining but this year it's pathetic! If u like Cringe so much , so be it! But don't throw shit to genuine people. At least keep a difference between the inhuman people inside who represent us commoners and outside.''
Rocky called Hina 'a genuine person' and other housemates 'psychos'. He also said that Hina might not be perfect but she is the best in this season. Hina came out in open about her relationship with Rocky few times back. She often shares their lovey-dovey pictures on Instagram.
What you have to say on Hina's behaviour? Was it an emotional outburst or just another strategy to win sympathy votes? Stay tuned to this place for all Bigg Boss updates.