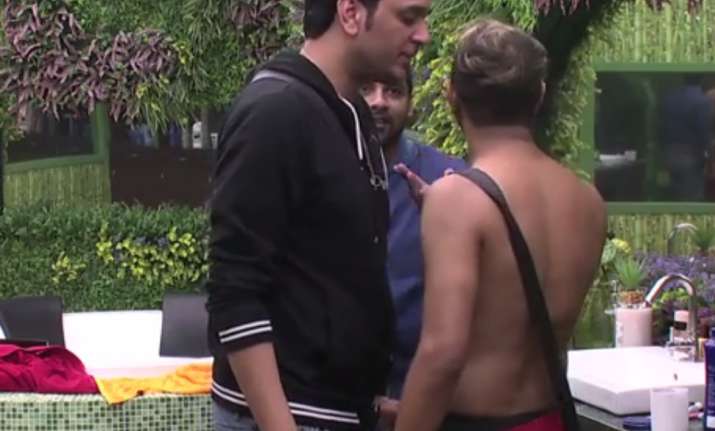 Bigg Boss 11 has already seen many squabbles and fight, with Vikas Gupta and Shilpa Shinde laying the foundation. Akash Dadlani has indulged in a verbal scrap with Vikas earlier on day, but it seems like the duo is going to come to blows in the coming episodes. The tension between Vikas-Shilpa and Vikas-Akash isn't looking as if it is going to subside anytime soon. In the recent video, posted by Voot, the official streaming app for Colors TV, Akash and Vikas are seen exchanging heated arguments with each other. 
The video starts with Akash Dadlani running to Puneesh telling him how Vikas complained about dirty toilets. Dadlani is seen setting Puneesh against Vikas, particularly. When Puneesh reaches the washroom, Vikas clears it out to him that Hina and Arshi were complaining and not him. This leads to a heated argument between Vikas Gupta and Akash Dadlani. Gupta accuses him of inciting Puneesh against him. He's seen intimidating Akash, who later subsides to avoid any physical fight. 
Puneesh on the other hand mockingly says that Vikas is using his tall stature to intimidate Akash. 'Height ki opportunity uth rahi hai yahan', he says. Vikas explains to him that it was 5 housemates who complained about the cleanliness, not only him. 
In the backdrop, Hina Khan and Benafsha are seen brooming the washroom. 
Tonight, Bigg Boss is going to see a brawl between Vikas Gupta and Shilpa Shinde. For more updates on Bigg Boss 11, stay tuned with us. 
Bigg Boss 11 airs on Colors TV at 10:30 pm from Monday to Friday and on 9:00 pm on Satuday and Sunday.