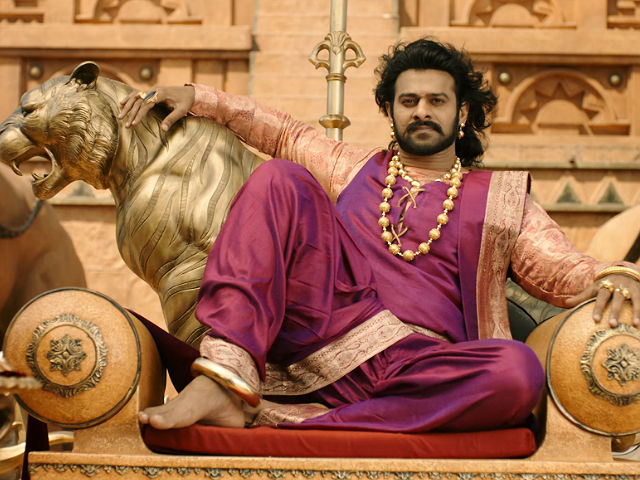 The Baahubali fame actor Prabhas, who is all set to wow us once again with Saaho, opened up on stardom. The South Indian actor said that he still gets conscious at public events -- and is learning the art of handling stardom. Prabhas who attained global fame with SS Rajamouli's Baahubali: The Beginning and Baahubali: The Conclusion.
"I am still shy when I go to interviews. I want a lot of people to come and watch my film but I can't face (that many) people," Prabhas told IANS.
"After being in the industry for 13-14 years now, I still don't know how to handle stardom. My fans feel bad that their hero doesn't come out so much. I'm better than before, and trying to improve," he added.
His father is famous producer Uppalapati Surya Narayana Raju and his uncle Krishnam Raju Uppalapati has also made a name in Telugu cinema.Many would have thought that his family's film roots would lead him naturally into the film industry. But that was not the case.
Prabhas says he had denied his family's suggestion to try his luck in the field, and that he still can't put a finger on what made him change his mind."My uncle is an actor, my dad is a producer, so they asked me if I was interested, and I was like 'How can someone act in front of so many people with lights and emote'. I used to feel shy... My parents asked me once or twice (about the decision to be an actor) and I said that it is impossible.
"I had thought I will do some business because I am lazy and I can't do jobs. I had thought that maybe I will go into hotel business because our family loves food. And north Indian food is very famous in Hyderabad."
But his role as Amarendra Baahubali and Mahendra Baahubali from the "Baahubali" universe changed the whole game for him, and made him popular both in India and around the world.
Filmmaker S.S. Rajamouli put together a story about the battle for control of an ancient kingdom between two brothers in two parts -- with dance, music, emotion and drama.
The first part "Baahubali: The Beginning" came out in 2015 and the second "Baahubali 2: The Conclusion" was released earlier this year. The second instalment will have its TV premiere on Sony MAX on Sunday.
After "Baahubali" becoming a phenomenon, Prabhas admits that fear of failure with upcoming projects looms large.
"Fear of failure is definitely there for every film. It was present for 'Baahubali'; then, after the first part, it was there for the second part. Now, there are so many expectations and audience wants to see something else... Fear is there, but what we can do is believe in something and try to make it."
On the film front, Prabhas is busy with "Saaho", which will mark Shraddha Kapoor's Telugu debut. The film is being shot simultaneously in Hindi, Tamil and Telugu. He also has a period love story in his kitty. (With IANS Inputs)
(With IANS Inputs)
For more entertainment news and updates, follow our Facebook page