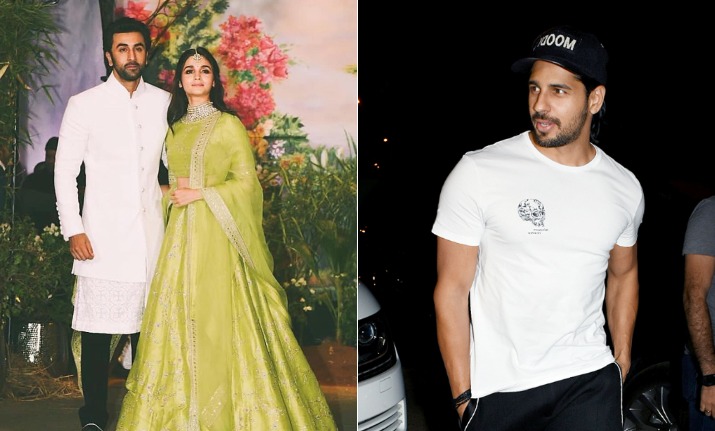 It was a major Bollywood gathering when many stars went to Delhi to meet Prime Minister Narendra Modi on Thursday. Karan Johar, Rohit Shetty, Alia Bhatt, Ranbir Kapoor, Sidharth Malhotra, Varun Dhawan, Ranveer Singh and many other celebrities flew together in a same chartered plane to meet the PM in the national capital. It was indeed an awkward moment for ex-lovers Alia Bhatt and Sidharth Malhotra and the actress' current boyfriend Ranbir Kapoor, who all came under one roof for some time. The reports are doing rounds that Sidarth Malhotra didn't get along well with the couple onboard the flight. In fact, the SOTY actor didn't even talk to Alia and Ranbir.
Ranbir Kapoor and Alia Bhatt also didn't make any efforts to bring him into the company. In a video shared by Karan Johar, it was evident that Sidharth Malhotra and Rajkummar Rao sat at the very back of the chartered plane without mingling with the rest of the celebrities.
Prime Minister Narendra Modi had a brief meeting with Bollywood celebrities to discuss the contribution of cinema towards the culture and nation-building. The delegation thanked the PM in multiple social media posts and selfies shared on the Instagram. They also thanked him for cutting GST on movie ticket prices which happened after Bollywood producers including Akshay Kumar, Sidharth Roy Kapur, Aamir Khan and many others met PM Modi last month. However, the meeting was criticised for not having a woman in the panel despite having so many successful women producers in the industry.
This time four women- Alia Bhatt, Ekta Kapoor, Ashwini Iyer Tiwari and Bhumi Pednekar joined the delegation which was a welcome respite.