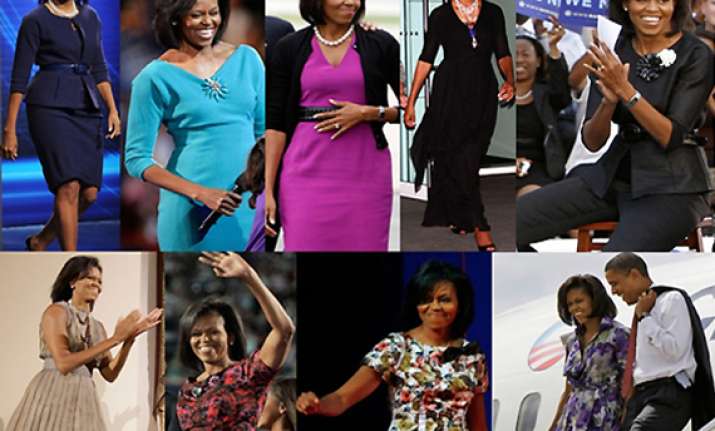 New York, Dec 27: A new book out helps everyday women manage her personal style like the First Lady of the United States Michelle Obama.

"Commander in Chic" is written by Mikki Taylor, the Beauty and Cover Director at Essence Magazine.

Taylor first interviewed the future First Lady in 2006 and worked with her on a second cover issue of the magazine two years later.

"Michelle Obama was a perfect muse for this because she's doing exactly that and she was doing that long before she stepped into the White House, you know she had a dress code based on bankable wardrobe pieces that worked for her, she had a clear mission about what she was trying to do from her mothering to the community to the things that she's passionate about and that she stepped into the White House she was able to do them ever more greatly if you will and she is clear and on purpose."

Taylor believes Mrs Obama's bold use of accessories, wardrobe color choices and chic accessories as well as her commitment to living a healthy lifestyle makes her a great role model.

"Michelle Obama's style is totally accessible.

"You know, whatever she wears you can have that or have some of that too from the cashmere cardigans that she works effortlessly to her fluid, flared pants, the great sheath dresses, the little black dress.

"I mean she loves color, you can mix color, you can shop anywhere. You can shop online.

"In fact, I made it a point to not only include her favorite shopping destinations in the book but to also feature those destinations that are accessible tow omen wherever they are even if they're sitting at their desk and they're ordering online."

Another thing Taylor believes women can learn from the First Lady is that it's OK to mix expensive and inexpensive items to create a wardrobe.

"Mrs Obama again proves that you can shop everywhere. I've seen her at H&M. I've seen her in J Crew. You know, she's worn designer, Jason Wu, Michael Kors but she mixes it up as most women do. Most well dressed women there style is a combination of what's known as high and low."

"Commander in Chic" is on sale now in bookstores nationwide.