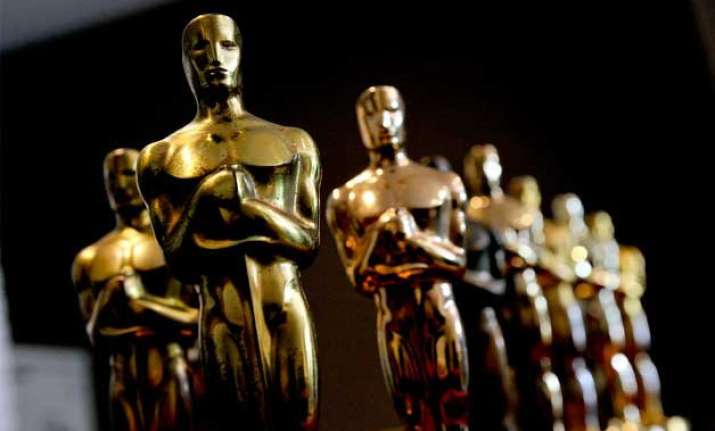 Los Angeles: DiCaprio-starrer brutal survival drama, is the front-runner at the 88th Oscars by bagging 12 nominations in major categories of best picture, best actor and director while action thriller "Mad Max: Fury Road" follows closely with 10 nods.

Both the films have been recognised in the best picture category besides cold war-set "Bridge of Spies", period romance "Brooklyn", action thriller "Mad Max: Fury Road", space adventure "The Martian", captivity drama "Room", recession drama "Big Short" and news drama "Spotlight".

"The Martian" has bagged seven nominations while "Carol" and "Spotlight" got six each. The nominations were announced today.

Based on the true story of 19th century fur trapper Hugh Glass, "The Revenant" has brought DiCaprio close to the Oscars glory while director Alejandro Gonzalez Inarritu is back in the game after winning big last year for "The Birdman".

Apart from the best picture, best actor for DiCaprio and best director for Inarritu, the movie has bagged nominations for best supporting actor (Tom Hardy), best cinematography, sound editing, costume design, sound mixing, film editing, production design, visual effects and make up and styling.

DiCaprio will fight it out with last year's best actor winner Eddie Redmayne (The Danish Girl), Michael Fassbender for "Steve Jobs", fellow Golden Globe winner Matt Damon "The Martian" and Bryan Cranston for "Trumbo".

The best actress category is being led by double Oscar winner Cate Blanchett "Carol", actress Brie Larson for "Room", Oscar-winner Jennifer Lawrence for biopic "Joy", Charlotte Rampling for "45 Years" and Saoirse Ronan for "Brooklyn".

2015 Oscar-winner Inarritu will compete again with George Miller ('Mad Max: Fury Road'), Tom McCarthy ('Spotlight'), Adam McKay for "The Big Short" and Lenny Abrahamson for "Room".

Besides Hardy, the best supporting actor award nominees are this year's Golden Globe winner Sylvester Stallone ('Creed'), Mark Rylance for "Bridge of Spies", Mark Ruffalo for "Spotlight" and Christian Bale ('The Big Short').

The best supporting actress honour contenders are Rooney Mara ('Carol'), Jennifer Jason Leigh for "The Hateful Eight", Alicia Vikander ('The Danish Girl'), Kate Winslet ('Steve Jobs') and Rachel McAdams for "Spotlight".

Indo-American filmmaker Sanjay Patel's "Sanjay's Super Team" is nominated in the best animated short film category.  Also contending for the award in this category are "Bear Story", "World of Tomorrow", "Prologue" and "We Can't Live Without Cosmos".

British-Indian filmmaker Asif Kapadia's Amy Winehouse biopic "Amy", coming fresh off a BAFTA nod, also finds itself in the race for best documentary feature in Oscars.

It will see competition from "What Happened, Miss Simone?", "The Look of Silence", "Cartel Land", "Winter on Fire: Ukraine's Fight for Freedom".

24th James Bond "Spectre" has been ignored by the Academy apart from the lone nomination in the original song category for Sam Smith's "Writing's on the Wall".

The track will face stiff competition from "Earned It" (Fifty Shades of Grey), "Simple Song 3" from "Youth", "Manta Ray" from "Racing Extinction" and "The Hunting Ground" number "Til it Happens to You".

Original score nominees are: Thomas Newman- "Bridge of Spies", Carter Burwell for "Carol", Golden Globe winner Ennio Morricone for "The Hateful Eight", Sicario's Johann Johannsson and John Williams for "Star Wars: The Force Awakens".  The nominees for original screenplay are Tom McCarthy and Josh Singer for "Spotlight", Matt Charman, Joel Coen and Ethan Coen for "Bridge of Spies", "Ex Machina" director-writer Alex Garland, Jonathan Herman and Andrea Berloff for "Straight Outta Compton" and "Inside Out" scribes Pete Docter, Meg LeFauve and Josh Cooley.

The adapted screenplay category will see "The Big Short" screenplay by Charles Randolph and Adam McKay, "Brooklyn" by Nick Hornby, "Carol" by Phyllis Nagy, Drew Goddard's screenplay for "The Martian" and author Emma Donoghue's adaptation of her novel for "Room".

Best foreign film category's nominees are Hungarian drama "Son of Saul", "Mustang" from France, Denmark's "A War", "Embrace of the Serpent" from Colombia and Jordan's pick "Theeb".

The comedy-drama "Inside Out" leads the best animated feature film category, with another nomination in the best original screenplay.

"When Marnie Was There", "Anomalisa", "Boy and the World" and "Shaun the Sheep Movie" are the other nominees for best animated feature film category.

The 88th Academy Awards will be presented at the Dolby Theatre at Hollywood & Highland Center on February 28.