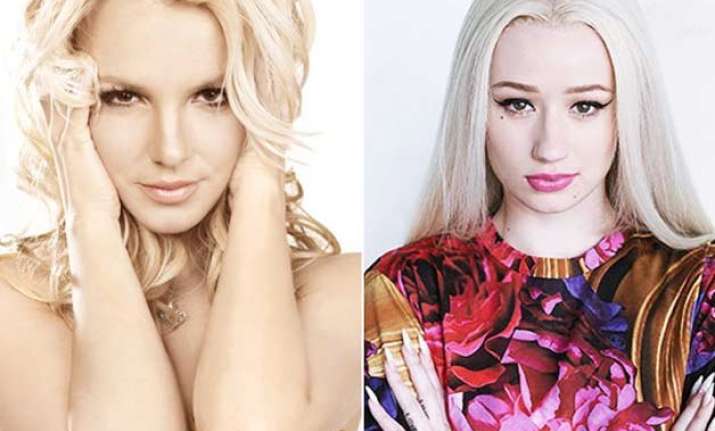 Los Angeles: Singer Britney Spears has hit back at rapper Iggy Azalea during Twitter row over their "Pretty girls" single.
The 33-year-old singer posted a tweet believed to be about the rapper after the "Fancy" hitmaker hinted the pair's collaboration "Pretty girls" failed to achieve chart success because Spears wouldn't promote it properly, reports mirror.co.uk.
Referring to Azalea's US Great Escape tour, which she cancelled because she wanted "a break", Spears wrote: "Can't wait to get back to Vegas. So thankful I have shows for the rest of the year to look forward to... #YouWantAPieceOfMe (sic)."
Azalea, 25, who got engaged to basketball player Nick Young earlier this month, had made her comments after a Twitter user suggested the single the pair recorded had "flopped a little bit".
 
She responded: "its difficult to send a song up the charts without additional promo and tv performances etc. unfortunately im just featured...(sic)
"I would have enjoyed performing it alot, i think it got off to a powerful start. but you need content to compete in 2015. (sic)"
Azalea returned to the social media site later in the day to respond to Spears's fans who criticised her for her comments, insisting the pair are "genuine friends".
She added: "My comment is factual, it applies to any song. I dont have to suck the womans a*****e 24/7 to be her friend, do i? bye girls
"Genuine friends have genuine opinions. Its possible & healthy to have a differing thought without it being b***hy or shade. (sic)"
Azalea also seemed annoyed about her words being twisted online and told fans: "could have said "iggy would have liked to promote PG more" or "iggy thinks more promo would have helped PGs position"
"instead its "iggy BLAMES britney" "iggy says its blah blah fault it flopped" like brah.... putting madddd words in my mouth."