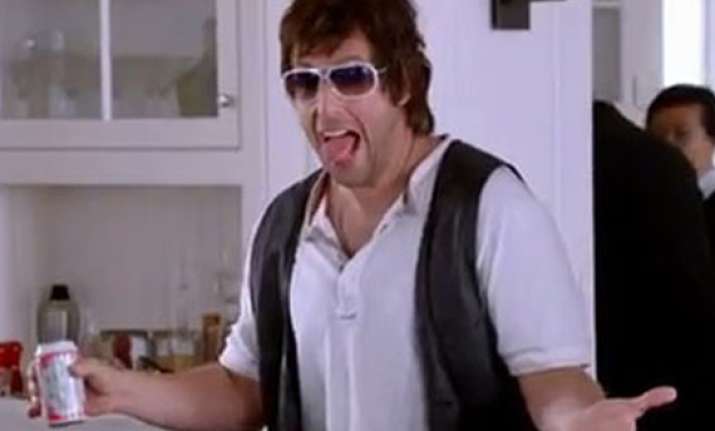 Los Angeles: From day one, actor Adam Sandler has credited his late father, Stanley, for a great deal of his success.
So, it's bit of a surprise to see Sandler celebrate the world's WORST dad in his new comedy, "That's My Boy," which premiered in Los Angeles Monday night.
"That's true.," Sandler acknowledged. "That's true. This has nothing to do with my father. But my father brought a few guys like this around the house, and I got to meet a few guys like this and I always enjoyed them. They made me laugh. They were bananas."
Sandler plays a loser who fathered a son (played by Andy Samberg) with his teacher in high school.
Decades later, dad reappears on the eve of the son's wedding, and butts heads with the bride (Leighton Meester).
How bad of a dad was the Sandler character?
He had a New Kids on the Block tattoo etched into his child's back when the kid was just eight years old.
Some 20 years, and a growth spurt later, the New Kids' heads are all freaky looking.
And then there's dad's continued use of "Whassup?" a long-passe, decade-old commercial campaign for Budweiser beer.
"I've had a love-hate relationship with 'Whassup?' since those commercials came out," noted Samberg, who just announced his departure from the sketch show, "Saturday Night Live."
"In fact, my first 'Weekend Update' feature I ever did on 'SNL' was with Bill Hader, and that was my joke, that all I said was, 'Whassup?'"
For all of the fun his movie makes of fatherhood, Sandler says he reveres his own father more than ever.
"I just loved him more than anything," Sandler said.
"He was just a dad like everyone else's dad. You saw him every which way. I saw him in his underwear a lot.
He chased me in his underwear and black socks, tried to kick me a few times, I got away, I was quicker. He just happened to be one of the?His whole life was about making sure his family was happy, and spending time with his family. And that's, that's what I try to do with my kids."