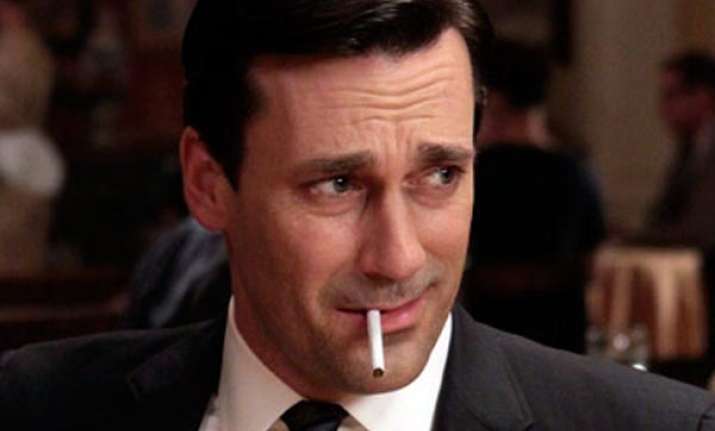 Los Angeles, Mar 21:
Retro fans are rejoicing as cult TV series "Mad Men" finally returns to US screens next weekend, following an 18-month gap due to an off-air battle which almost ended in its cancellation.
The stylized series about 1960s New York advertising executives, which has triggered a wave of cultural copycats, will kick off its fifth season with a special two-hour episode on Sunday.
Fans deprived of their Madison Avenue fix since October 2010 will welcome back philandering boss Don Draper (Jon Hamm), ambitious Peggy Olson (Elisabeth Moss) and the whole cast of characters at the fictional agency.
"Mad Men" is the only TV series in history to win best drama Emmy for every season it has aired — four in a row — and has spawned a culture-wide tide of 60s-styled shows, clothes and other products.
But the show almost died early last year, when talks to renegotiate contracts linking series creator Matthew Weiner, TV channel AMC and production company Lionsgate collapsed.
"I quit," Weiner told the New York Times, after Lionsgate tried to slash costs by dropping cast members while AMC sought to cut the length of episodes to make way for more commercials.
In the end the standoff was overcome, but not before it had seriously delayed production on the fifth season.
Under the deal all cast members were spared and Weiner secured a $10 million per season pay deal, but he did agree to cut each episode from 47 to 45 minutes, except for the season's premiere and finale.
After signing the deal in March 2011, Weiner thanked AMC and Lionsgate "for agreeing to support the artistic freedom of myself, the cast and the crew so that we can continue to make the show exactly as we have from the beginning."
The irony is that his battle with the money men echoed comments he himself had made on the show's official blog after it launched in 2007, drawing a parallel between Madison Avenue and Hollywood.
"I think the battle between creative and business is definitely always there. My insight into Madison Avenue and copywriting in particular is because I'm a television writer.
"I think the businesses are very parallel to each other. Creative people like to think of themselves as artists. And when there is money at stake it becomes for both, 'What is the most entertaining?'" He added: "I've always looked at advertising as a form of entertainment.
And if it's entertaining, you think it will sell things, but that's not always
true."
For AMC, "Mad Men" is above all a question of visibility: the series had a relatively modest audience of 3.2 million for its fourth season, well behind its most popular show, "The Walking Dead," with nine million.
But the show's influence is far wider than just its weekly viewership, as fashion brands and others have jumped on the wave of 60s nostalgia and 1.8 million fans have signed up on its Facebook page.