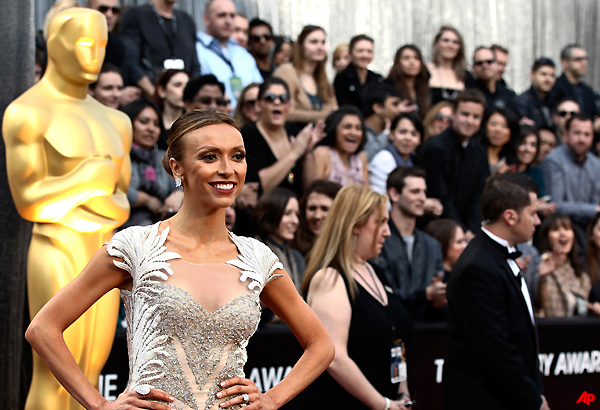 Los Angeles, Feb 29: There were many new fashion faces on the red carpet at the 84th annual Academy Awards on Sunday night, but they brought with them a lot of old Hollywood glamour.

E! News host Giuliana Rancic was able to check out stunners like Rooney Mara in white Givenchy and Emma Stone in red Giambattista Valli up close and personal while hosting E!'s Oscar pre-show.

The reality TV star named Jennifer Lopez, Angelina Jolie, Michelle Williams and Gwyneth Paltrow the evening's best dressed.

"(I) thought Jennifer Lopez looked gorgeous in that Zuhair Murad. Her skin was just glowing beautiful. I thought Angelina (Jolie) looked great in the Versace even though all we did was focus on that leg of hers and Michelle Williams looked adorable in that Louis Vuitton. I thought those three looked gorgeous. And Gwyneth Paltrow. Beautiful."

Michelle Williams wore a burnt-orange Louis Vuitton covered with delicate details and Jennifer Lopez wore a crystal-covered Zuhair Murad.

Angelina Jolie did her simple, sexy thing in a black strapless gown with a high slit by Atelier Versace.

Gwyneth Paltrow went sleek and chic in a white Tom Ford that had a matching slim cape, and Stacy Keibler was statuesque in gold lame Marchesa.

"I thought George (Clooney) and Stacy Keibler looked incredible," said Rancic.

"I wish somehow they had broken up on the red carpet before our eyes because I love George so much but you know what if he's gonna be with anyone I love Stacy Keibler she is the nicest girl. I know her off of camera as well and she's the sweetest girl. I thought she looked beautiful. That Marchesa gown was his very own, personal Oscar statuette so he didn't win that night but hey, he took him a pretty beautiful statue anyway so I thought they looked amazing."

Viola Davis' emerald-green, corset-style gown by Vera Wang had a little beading on the bustline and a chiffon pleated skirt.

She matched her earrings to the jewel tone of the gown, which seemed a popular trend.

"You know Joan Rivers actually picked Viola Davis as her best dressed for 'Fashion Police at the Academy Awards' and she looked great," said Rancic, who co-hosts "Fashion Police" with Rivers.

"That green color really popped. No one else had that color on the red carpet and I thought she looked absolutely beautiful and also Octavia Spencer. She was loyal to her designer Tadashi Shoji. "

Octavia Spencer continued to work with Tadashi Shoji on her awards-show wardrobe, this time in a hand-beaded, draped ivory gown with cap sleeves.

Season 5 of Rancic's reality show "Giuliana and Bill" premieres April 3rd on the Style Network.