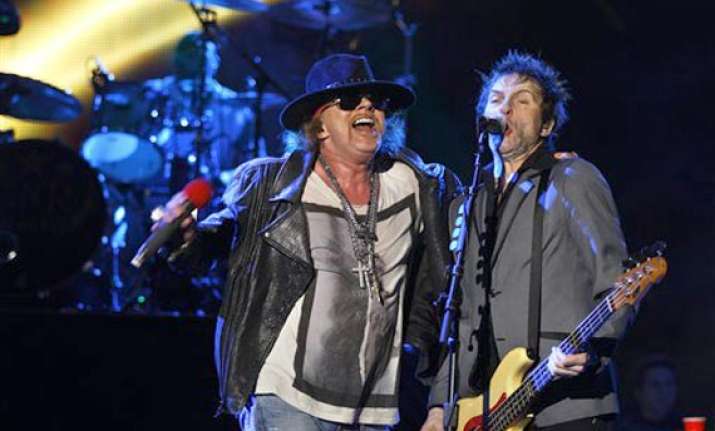 Mumbai: Even as guitar God Slash (Saul Hudson) was sorely missed, the Guns N' Roses concert had its moments on Sunday here.
The band kicked off the concert with 'Chinese Democracy', one of their recent numbers, and followed it up with 'Welcome to the Jungle', but what got the crowds singing was their 1990s hit tune 'Sweet Child of Mine'.
The band also played some of their lesser known songs, but managed to get Mumbai to swing and sway to their numbers like 'November Rain' and 'Knocking On Heaven's Door', besides 'Another Brick In the Wall'.
A surprise number was 'Live and Let Die', originally an old track composed by former-Beatle Paul McCartney for a James Bond-movie by the same name, during his days with his old band called Wings.
Dressed in a jacket, blue jeans, bandana tied around his head and trademark red scarf peeking out of his left pocket, Axl Rose was accompanied on lead guitar by DJ Ashba wearing a top hat, in place of Slash, who will soon perform in Mumbai in February next year.
The top hat surely evoked old memories and of course, the inevitable comparisons with Slash, but that old and much-awaited Slash on guitar and Axl on piano duet was not played the way it ought to have been. The crowds clearly weren't complaining as they sang along.