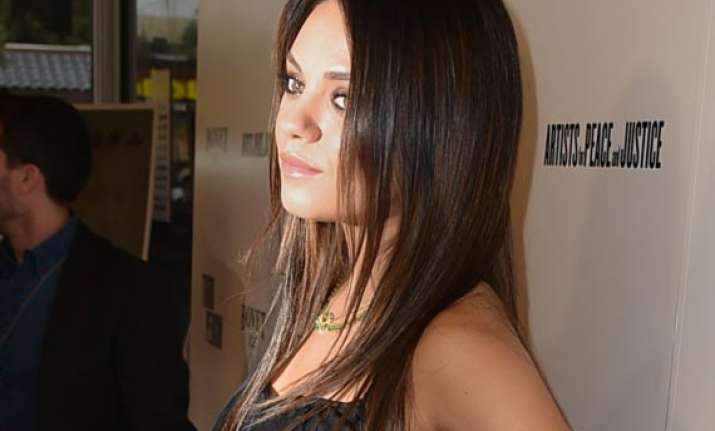 Los Angeles: Actress Mila Kunis warns all future dads not to call themselves pregnant when their wives are expecting.
The pregnant 30-year-old actress appeared on "Jimmy Kimmel Live!" Tuesday evening, and started speaking about preparing to welcome their children into the world.
But the chat show host angered Kunis when he harmlessly insinuated that he and his wife are with child, reports contactmusic.com.
"My wife and I are pregnant," Kimmel said, whose wife Molly McNearney is carrying the couple's first child.
"We are having a baby very soon, as well," he added.
An angered Kunis quickly replied: "Oh, you're both having a baby?" in a sarcastic manner. "You and your wife are pregnant?"
At this moment, the "Jupiter Ascending" actress abruptly stood to attention, grabbed a microphone and began a passionate rant.
"Hello, I'm Mila Kunis with a very special message for all you soon-to-be fathers," she stated while dramatic music suddenly started playing in the background.
"Stop saying, 'We're pregnant'. You're not pregnant. When you wake up and throw up is it because you're nurturing a human life? No. It's because you had too many shots of tequila. Do you know how many shots of tequila we had? None. Because we can't have shots of tequila. We can't have anything!" she added.