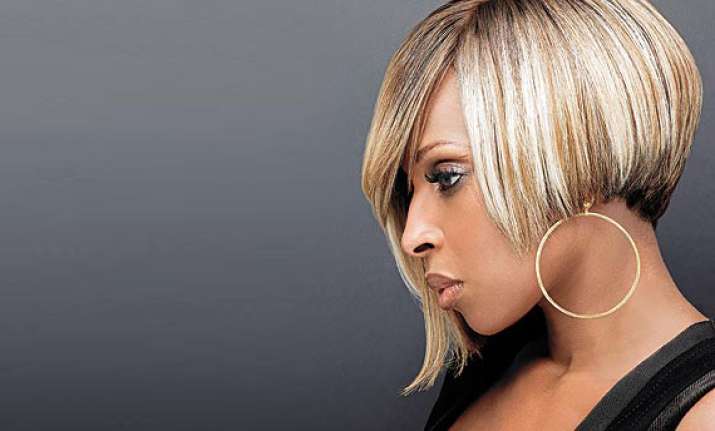 New York, Nov 25: Mary J. Blige is back with a new album – 'My Life II... The Journey Continues (Act 1).' There's also an Act 2 still to come.

The record is her 10th studio album and it's been 19 years since her first. Having made her debut in the music business back in 1992, Blige has pretty much seen and experienced it all along the way and says it's not an industry for the timid.

"I think you have to definitely be strong and know your identity in this music business because it can take you anywhere it wants to take you if you are really super-sensitive and not strong, "notes Blige.

"I'm super-sensitive but I'm very strong and I don't let the opinions of people stray me away from what I know to be true about myself. So yes, you have to be strong. You have to know what you want. You have to know what you will and will not wear, what you will and will not take, where you will and will not go and you won't end up looking crazy. You know, we all have hiccups because we all have those moments of 'well I'll try it' and everything is not for everyone."

During the making of the album, Blige collaborated with Beyonce, as well as some other successful artists, including Drake and Kanye West.

"Well I really love the Drakes because Drake is not only a great rapper, he can sing really well and he's a writer. He writes songs. You have to love that. He's educated. He's an actor. He's got a lot going. Kanye is amazing, amazing, amazing, really super creative and a writer himself, producer. This is what we love, this is what Jimmy Hendrix would have loved, this is what Sly and the Family Stone would have loved. Just people doing, being different not everyone looking like a needle in a haystack. There's a lot of that too but you've got to look at the Drake's and Kanye's and say 'thank God, somebody's doing something different.'"

Someone else Blige is excited about is pop's latest starlet, Rihanna, who she describes as "cool."

"I love Rihanna and what I love most about Rihanna is that she's grown into her own. Her last album she sounds really, really good and she's really grown and she's confident about her voice so now her voice is very distinctive and stands out to people because she is cool, she seems to be confident with it and I believe her."

A new album, isn't the only thing that's been keeping Blige busy these days. Fans will soon be able to see her on the big screen in the forthcoming film version of "Rock of Ages," in which she stars alongside Tom Cruise and Russell Brand.

In it she plays Justice Charlier - a gentleman's club owner.

"She gets to sing all of these 80s rock, classic rock songs but the best part about her is she gets to be a mentor and help build a self-esteem and keep the women stable in their confidence about where they are in their life and where they're going. Even in a place like a strip joint or a gentleman's club you still have to feel good about yourself in order to win," says the star.

In her fruitful career, Blige has had eight multi-platinum albums and got 9 Grammy Awards and 4 American Music Awards under her belt.

"My Life II... The Journey Continues (Act 1)" is out now. "Rock of Ages" is due for release next year.