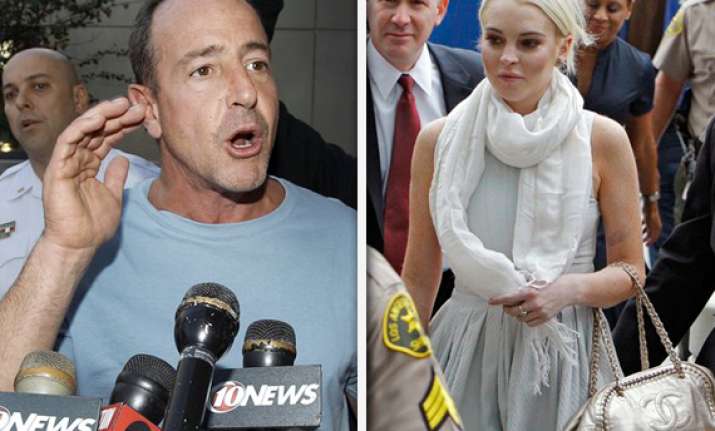 Tampa, Oct 27: The estranged father of actress Lindsay Lohan was back in police custody Thursday, hours after being released from a Tampa jail on domestic violence charges.

Tampa police answered a phone call from Michael Lohan's on-and-off girlfriend early Thursday. Kate Major told police Lohan, 51, made a harassing phone call to her shortly after being released from jail Wednesday afternoon.

Lohan called again while police were at Major's apartment. Major, 28, put the call on speaker so police could listen.

After hearing what Lohan said, the police notified the Hillsborough County State Attorney's Office of a violation of Judge Walter Heinrich's pre-trial release orders that Lohan stay away from Major and an arrest order was authorized.

Officers went to the Tahitian Inn in Tampa, where Lohan was reportedly staying. According to the police, Lohan spotted the officers, tried to hide and then ran from them, eventually jumping off a third-floor balcony in an attempt to escape.

Lohan "apparently leaped up from his balcony and grabbed a hold of the roof. He then must have scurried across the roof until he thought he was hanging over top of the next balcony," according to a report by Officer J. Ladd, one of two police who initially responded to the call.

The report says Lohan let go but missed the balcony. "He came crashing down on top of wooden high chairs that were laying on the ground."

Lohan was arrested after a short pursuit on foot and was taken to the Hillsborough County Jail. Deputies suspected he may have broken his foot when he jumped off the balcony, so he was then taken to Tampa General Hospital for evaluation.

Authorities said he will be returned to the jail once he's been cleared by doctors.

Lohan was arrested Tuesday on domestic violence charges involving Major, a former reporter for the Star tabloid.

Police say he grabbed her arms and pushed her down multiple times during a daylong argument. When Lohan was released from jail Wednesday, he said he "didn't do anything" and the charges were Major's way of making money.

The St. Petersburg Times reported that Lohan claimed Major set him up to be overheard by police Thursday. "She needs help, she calls me, and I'm a sucker so I call her back. I'm an idiot," Lohan said as he was being put into the back of a police cruiser.

But in the police report, officers noted Major's phone number did not appear among recent calls on Lohan's phone.

Earlier this year, Lohan appeared on VH1's "Celebrity Rehab With Dr. Drew."

He is not the first reality show celebrity that Major has dated.

In 2009, Major also dated Jon Gosselin from the TLC reality show "Jon & Kate Plus 8."

According to a People Magazine story from that year, Major and Gosselin even stayed at Lohan's house.

Lohan has a history of arrests in New York over allegations of harassment from ex-girlfriends.