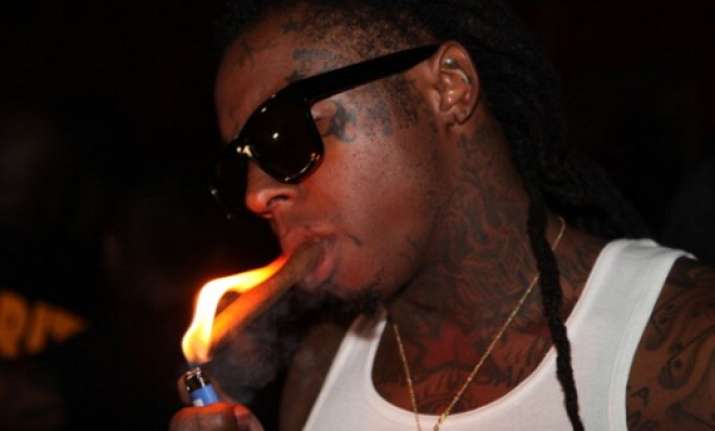 New York:
Lil Wayne says "there's no beef" between himself and Pusha T despite back-and-forth diss songs released in recent weeks.
Conflict between the two rappers had been simmering for years but boiled over when The Clipse' Pusha T - signed with Kanye West's G.O.O.D. Music group - released a track called "Exodus 23:1" that targeted Lil Wayne and his Young Money signee Drake.
Lil Wayne, who rarely responds in such cases except for a conflict with Jay-Z, quickly released a brief song called "Ghoulish" aimed at Pusha T "and anybody that love him."
But in an interview at a Los Angeles Macy's store where he was promoting his Trukfit clothing line, Wayne told The Associated Press he doesn't plan to escalate the conflict.
"I just reacted. Just a reaction, a simple reaction. I don't apologise for it because I'm human. But it was just my human reaction. I don't take it back. But there's no beef. Beef is a whole different thing," he said.
"It was just a - I'm done with it. Here, this is what I feel and that's that. I'll move on."
The Grammy-winning rapper, known for prolific recording on a mobile studio, said he just finished a set of songs that he plans to release as "I Am Not A Human Being II" and will then focus on a compilation album with his Young Money crew that includes Nicki Minaj, Drake and others.
Lil Wayne began skateboarding last year and in January launched his Trukfit line of skateboarding-focused clothes.
It's now being sold in Macy's stores.
"It was brought to me by my friends and peers. They was like, 'Dude, you dress your own way and people follow that. You probably should have your own clothing line.' And it was just that easy," he said.
The New Orleans native, whose real name is Dwayne Carter, said he deliberately avoids melding his free-wheeling public persona with his business ventures.
He's also signed to endorse Mountain Dew.
"I believe that business shouldn't be done in the public's eye anyway," he said.
"Business should be handled in the room amongst the people you're doing business with. And that's how I handle my business. And once I come out of that room, I'm back to being who I am. And that's why I don't come off as the businessman or nothing, but at the end of the day you can always say, 'But this guy's stock keeps rising and there is no driving force behind it but him.'"
However, Lil Wayne notes that his ambitions for his business career don't overshadow his musical ambition.
"I'm naturally a musician. And I don't have to get paid, I don't even have to have businesses. I will still do music," he said.
"So that will always be my greater thing. There is no - I don't even put the two together. Business is business. And music is life."
The 29-year-old musician, who spent most of 2010 in prison on a gun charge, said he plans to be politically active during the US presidential campaign, encouraging young people to vote.
"That comes from age and that comes from my vacation on Rikers Island now that I know how important voting and elections and all that is," he said.
He said he supports President Obama, "but everybody know that life is going to be life regardless of who is president."