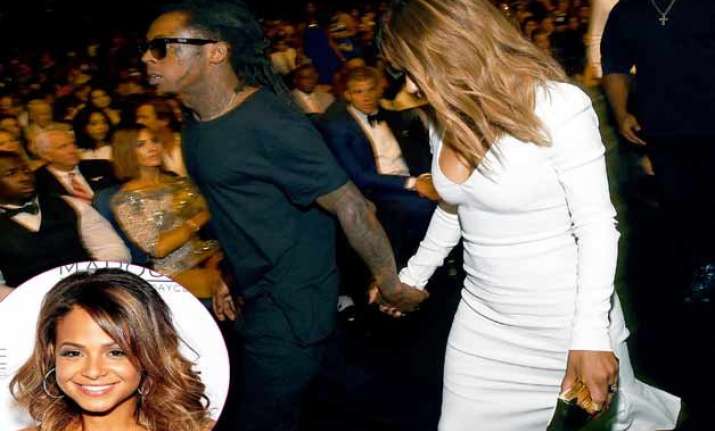 Los Angeles: Rapper Lil Wayne and actress Christina Milian were spotted walking hand-in-hand on the set of her upcoming comedy show "Grandpa".
A photograph obtained by Mail Online on Wednesday showed Milian smiling widely as the rapper held her hand tightly, reports aceshowbiz.com.
The "Lollipop" rapper was seen wearing a black long hoodie over a white t-shirt and grey pants and completed his look with red sneakers.
The "Christina Milian Turned Up" star wore an unbuttoned white shirt over a netted black brassiere. She completed her look with a black leather blazer, ripped jeans and black heels.
Milian shared on image-sharing site Instagram a photograph of her and Wayne posing alongside former football and baseball player Deion Sanders and comedian Don Rickles the sets of "Grandpa".
She captioned the image: "Look who made a cute cameo on my pilot for #TheGWord aka #Grandpa fun times! Life is all about trying new things. #blessed to share the fun! #tunechi #dionsanders #donrickles #tnt Safe to say you've never seen this group of men in one picture together. @fox."