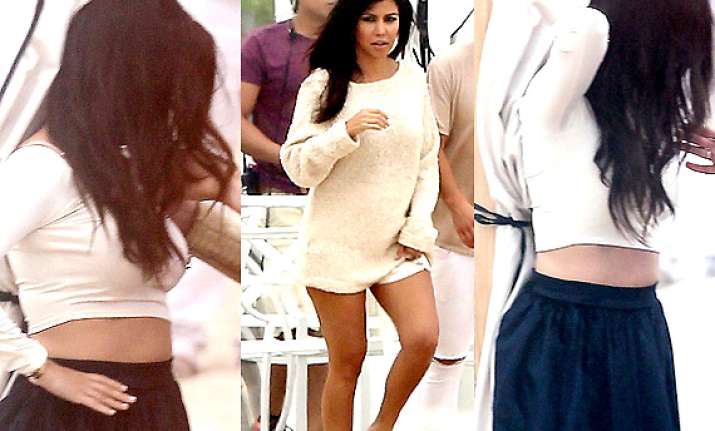 New Delhi: Yesterday her sister Kim Kardashian grabbed the headlines for going braless, now the elder Kardashian grabbed the eyeballs in her own style.
Usually Kourtney Kardashian dressing is not as scandalous as her sisters but yesterday, the reality star and owner of a fashion line stepped out donning racy attire.
 The 35-year-old reality TV star showed off her trim legs and growing tummy during a photo shoot at the beach in New York. The lady proved that she is as sexy as her sisters and flaunted her growing bump.
The mother of two bared her growing belly in a tight long-sleeved white crop top and black maxi skirt.
Kourtney, who is currently pregnant with her third child, didn't seem to be hiding her growing belly at all.
For the next shot, the reality show star displayed her legs by wearing just a long-sleeved cream knit. Beneath the knit, Kourtney wore a cream coloured shorts.
 Since it was a beach photoshoot, the elder Kardashian sister went barefoot.
Unlike the other days, her face was full of makeup and hair was styled straight and flowing down. A pair of beautiful diamond earrings was hanging in her ears.
 Kourtney proves that she is as sexy as her siblings!