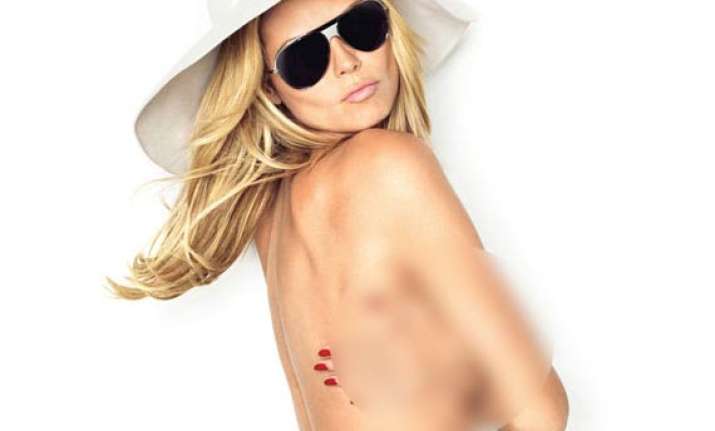 Heidi Klum poses topless in Glamour Magazine August 2011 issue. 38-year-old supermodel and Project Runway host looks stunning than ever on cover in a sparkling Stella McCartney tank teamed with MiH jeans and complementing accessories.

For inside photoshoot, she goes topless and flaunts her killer bod by wearing nothing but J Brand jeans, floppy white Patricia Underwood hat and Dolce & Gabbana sunglasses.

Talking about future of Project Runway, she says, "I'm going to be 80, walking with a stick down the runway.


Excerpts from Heidi Klum's Glamour Magazine interview:

On keeping things alive in the bedroom: "There's nothing wrong with a nice garter belt. I'm not saying you have to put up a pole in your bedroom and start swinging off the rafters. But I love that sometimes!"

On being the aggressor in a relationship: "I'm not someone who plays hard to get. The whole thing about 'Oh, let's exchange numbers' and then people wait four or five days before they call you? I don't see the point. If you feel something, why would you let that pass? You only live once."

On whether Tim Gunn ever given her style advice: "He hasn't. He's so polite – he would never say, 'Why are you wearing that?' Michael [Kors] is a little bit more…well, he always jokes with me. He says that my skirts are really short. He calls it fallopian length. He teases me."