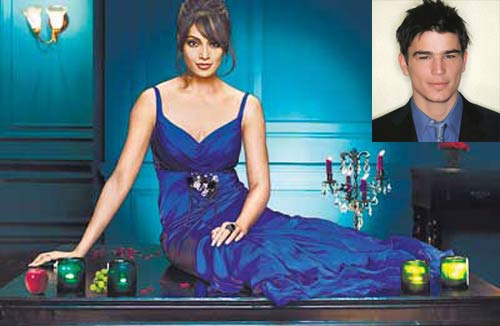 Bollywood actor Bipasha Basu is going to kiss Hollywood hottie Josh Hartnett in Roland Joffe's Singularity, reports MidDay.
While it is known that Bipasha Basu has been signed for Hollywood film Singularity with Josh Hartnett. The big news is that she will shoot for some hot scenes with her hot co-star kissing.
The actress, who flew off for Roland Joffe's 35 million dollar shoot last week admits, there will be kissing and lovemaking scenes in the film, and that she's comfortable doing them.
Bips argument is, "If I can do kissing scenes in India then why not for a Hollywood film? I have only kissed John (Abraham) and Ranbir (Kapoor) in Bachna Ae Haseeno - though I tried to wriggle out of that."Singularity is a passionate love story about an Indian bodyguard and a British soldier set apart in two time zones.
The actress however has some entirely different worries,  "I am a bit unnerved about working with a Hollywood team for the first time, but I am very adaptable and easy to work with, which should make things easier.
This project is something new and exciting for me. Working with Roland and getting a to star opposite a heartthrob like Josh Hartnett is like a dream come true."
The actress will be styled by Paul Patterson and they want her to wear minimum makeup, and sport a natural look.She will be seen doing plenty of action in the film which is set in 17th century India and has the Anglo-Maratha war as its backdrop.
The Bengali Bombshell adds, "I am the queen's bodyguard who is equipped for all kinds of action. I have to learn under water deep sea diving, horse riding, cirque de soli training and fencing - all in a month's time.
I have told them that I am not a magician and can't learn so fast." She is currently in Australia undergoing training for her action sequences, after which the shooting begins."I feel like a little  child going to new schools in a different country. I will learn everything."