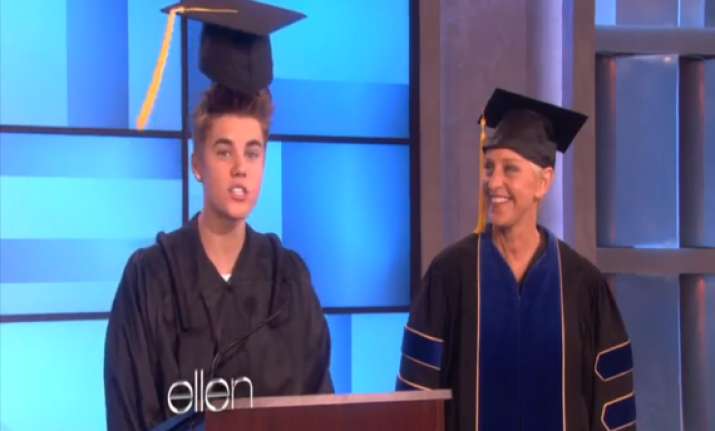 Los Angeles : Since Justin Bieber just graduated  but not in a ceremonial way, Ellen thought of giving him a surprise graduation ceremony on her show 'Ellen'.
"Justin, I know you graduated two weeks ago but you didn't really have a traditional graduation ceremony so I'm gonna give you one right now. So come on over here" Ellen said in her signature style.
Next we see Justin and Ellen proceeding towards the graduation setup.
Beiber quietly sat there like a student while ellen introduces like a teacher.
Ellen gave him a 'special' graduation cap that does not spoil his hairstyle.
"Good afternoon everyone.Audience, Justin's manager  , Justin's mother....today is an important day.....We are here to know the accomplishments of The Beibs....A great American who happens to be from Canada".
"Today , you are a high school graduate....you have accomplished so much...you are 18 and an international superstar...when I was 18, my greatest accomplishment was drinking a bottle of berry syrup from an international house of pancakes" she added jokingly.
Finally when Beiber was allowed to speak, he in a very traditional manner said " I'd like to thank my sponsors."
Ellen then awarded her a 'real' diploma from 'Ellen Academy'.
The gig left audiences laughing.