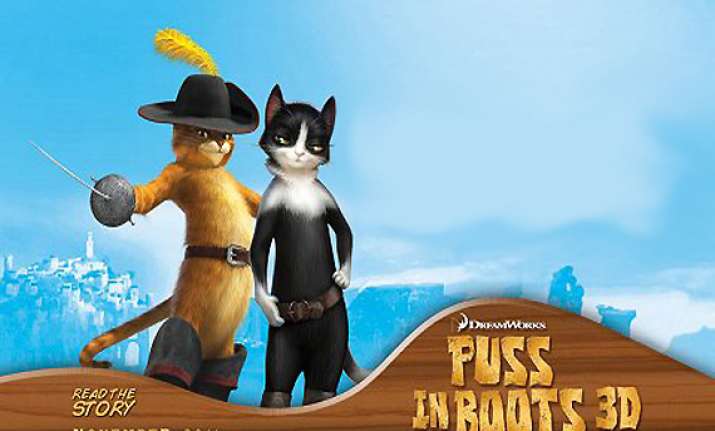 London, Nov 24: Antonio Banderas and Salma Hayek walked the orange carpet in London's Leicester Square for the premiere of their new movie "Puss In Boots."

The pair play flirty, competitive, thieving cats in the new animated film. Banderas' character was spun off from the hugely successful "Shrek" franchise and Hayek's feline is a newcomer, Kitty Softpaws.

For Banderas, having his own Puss In Boots movie is "like a dream." "I started doing this character ten years ago and at the time I didn't know that it was going to go that far," the actor explains.

Puss In Boots became a hugely popular character in the "Shrek" film series, but Banderas isn't sure what the secret to Puss' success is.

"It's almost like a mystery to me actually to tell you the truth, you know, how that character just connected with the audience in that way and when things happen like this you try not to intellectualize them, you just go with it, which is cool," says Banderas.

The film sees Hayek make her animation debut and according to the actress, doing voiceover work has a lot of perks - especially not having to have her hair and makeup done.

"Oh that was great. I loved not having to do all of that and just being relaxed," admits Hayek.

"I loved that you don't have the pressure that you know...if you make mistakes it doesn't matter, there is no camera rolling. There's a little one that is filming you, but sometimes they like you to make mistakes and laugh and be spontaneous and then they use them later."

Another bonus for Hayek is the fact her four year old daughter, Valentina, is now a huge fan of the movie.

"She loves it. I mean it's very exciting for her, even just being in the (promotional) tour, she's been in parts of it, being able to see...sometimes we have the stuffed animals walking around and just being around Antonio, she's in love with 'Puss In Boots," says Salma.

Also in attendance at the premiere was the film's director Chris Miller and producer Latifa Ouaou. They say the film is ultimately a redemption story, but also packs in the laughs. "I mean, he's kind of in trouble really. He's kind of a bad cat and when we start the film he's on the run, he's trying to repay a debt from his past," says Ouaou.

"It's mixed with revenge and betrayal and laughs too, it's also very funny. It's a funny movie," adds Miller. "Puss In Boots" also features the voices of Billy Bob Thornton, Amy Sedaris and Zach Galifianakis.

It is set for release in the India on December 2nd.