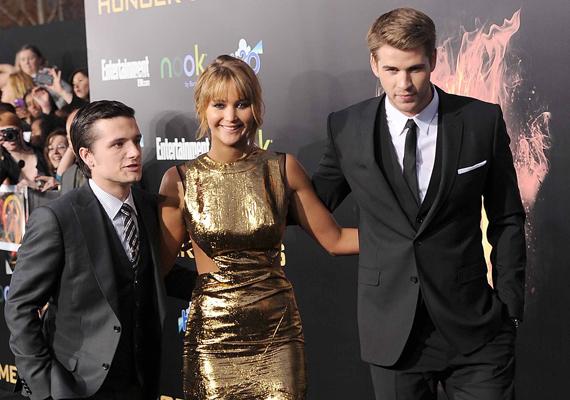 London, Mar 15: Jennifer Lawrence and her "The Hunger Games" co-stars Josh Hutcherson, Liam Hemsworth and Elizabeth Banks were in London on Wednesday for the European premiere of the highly anticipated movie.

The four were greeted by screaming fans at the event at the British capital's O2 Centre.

Based on the novel by Suzanne Collins, "The Hunger Games" stars Lawrence, Hutcherson and Hemsworth as teens fighting for survival in a government-controlled world, that hosts annual televised games in which participants are forced to kill their opponents.

"The Hunger Games" is the first of three books by Collins and a movie series could be in the pipeline.

Lawrence has already been on the showbiz industry's radar after earning rave reviews and an Oscar nomination for her role in the 2010 film "Winter's Bone."

Being cast in the lead role as Katniss Everdeen in "The Hunger Games" could see the 21-year old catapulted to global fame, especially as the film has been tipped as the new "Twilight."

The young actress, however, isn't quite sure how she'll handle international stardom.

"I'm as ready as I can be, it's kind of one of those things - there is no way to really prepare for something like that," she said.

And she admits she hasn't asked any of the "Twilight" cast for fame tips.

"I only got in touch with Kristen Stewart one time when there was a rumor that we were in a huge fight and we've literally never spoken, so I just sent her an email, like 'Hey, I never said any of that stuff,' and she was like 'No, welcome to the world of BS,'" she explained.

Hemsworth also hasn't given much thought to the possibility of worldwide adoration.

"I'm just extremely happy to be a part of it. I feel very fortunate, I'm very proud of the film. I think it is one of the most powerful films I've seen and if it does that well then that's a bonus," said the Australian actor, whose actor brother, Chris, attended the premiere.

Their co-star Hutcherson's only concern is keeping the fans happy.

"My goal when I make a movie is to make a good movie, and I am a big fan of the books, a fan of the series, as are all these fans, so for me I just want to make the best movie possible and stay true to the book for them," he said.

Banks, who plays villain Effie Trinket, thinks the movie is not only faithful to the book - it also gets people thinking about global political issues.

"I think Katniss is an amazing heroine that a lot of people are in love with, including me, and I think that we have a really beautiful movie that is a real quality piece of art and great conversation starters," she said.

"The Hunger Games" is set in the future - where North America has become a nation known as Panem.

Every year all children between the ages of 12 and 18 must enter in a lotto where a boy and a girl are picked to compete in a live, televised event called The Hunger Games.

Contestants must fight to the death, with the last surviving contestant declared the winner.

Actors Lenny Kravitz, Donald Sutherland and Woody Harrelson also feature in the film.