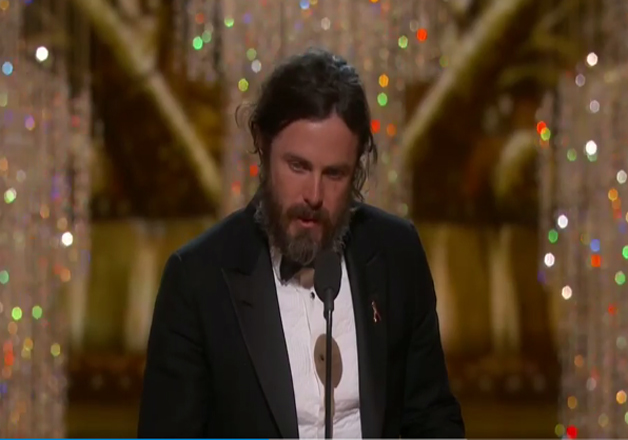 Hollywood actor Casey Affleck won the Best Actor award for 'Manchester by the Sea' in the 89th Academy Awards. But Oscar-winning actress Brie Larson, who handed over the trophy to the star, didn't look pleased with the decision. Not only her but Twitter also looked divided on the matter as Casey was accused of sexual harassment earlier.
While presenting the trophy, Larson clearly looked upset as she didn't applaud the actor's win. The lady has been working for victims of sexual assault for many years.
After the ceremony got over, micro-blogging site Twitter went on a debate over the issue if the decision to recognise Affleck as the best actor was right. Some people didn't find it right that despite being charged with such serious allegations, the actor was honoured with the prestigious award. However, some stated that the actor should be applauded for his powerful acting.
Here are some tweets:
Yet another time it is proved that the world is never fair for women. #CaseyAffleck #Oscar2017

— Shiva Sharma (@ShivaAkalwadi) February 28, 2017
.@TheAcademy awards #CaseyAffleck; a known sexual offender, but wouldn't award #IsabelleHuppert who portrayed a #rape victim. #Perspective

— 𝔇𝔞𝔯𝔠𝔶 𝔉𝔞𝔯𝔯𝔬𝔴🌈🍭 (@MsDarcyFarrow) February 28, 2017
Women get fired for reporting sexual harassment and men win awards for committing it #oscars #CaseyAffleck

— Preston Bradsher (@prestonleighb) February 27, 2017
Whatever. #CaseyAffleck was amazing in that film. A-mazing. Can we please just stop?

— Amanda Puckett (@amandaleah2325) February 28, 2017
The 89th Academy Awards were conducted on Sunday at the Dolby Theatre in Los Angeles. Emma Stone was honoured with the Best Actress Award for her film 'La La Land'. The musical film won six trophies including that of the Best Direction. However, it lost the Best Picture award to 'Moonlight'. The latter bagged three awards at the event.