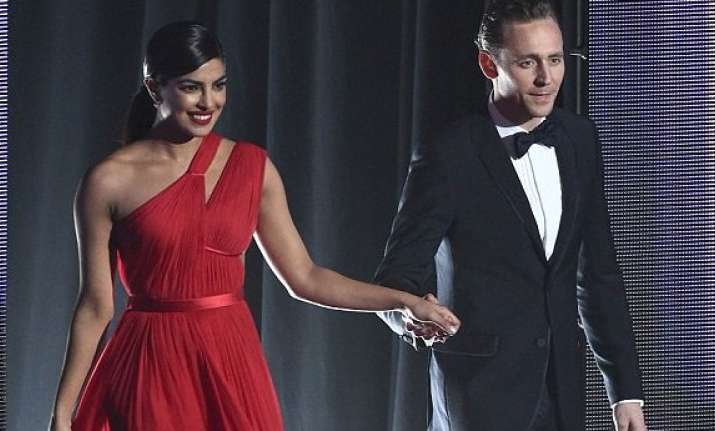 The Primetime Emmy Awards of this year which were held in Los Angeles on Sunday night posed a lot of interest for 'desi' fans. All of this because our very own 'desi' girl Priyanka Chopra attended the star studded function for the first time. If her designer Jason Wu's one shoulder red gown was not enough to make her the apple of everyone's eyes; Priyanka Chopra and Hollywood star Tom Hiddleston were spotted flirting at the function.
The chemistry between Tom and PeeCee was evident right at the moment when they came on stage together to announce the award for 'Outstanding Director for Limited Series, Movie or Dramatic Special'. Tom twirled Priyanka before she reached the microphone, enabling eye-rolling reactions.
The flirting and cosiness apparently went on till the after party. Multiple reports in foreign media suggested that at the party Priyanka and Tom held hands, exchanged phone numbers and the 'Loki' also played kiss chaste with the Bollywood star.
is that the heaven? *-*@priyankachopra @twhiddleston <3#PriyankaChopra #TomHiddleston #Emmys2016 pic.twitter.com/7jmM2SyDSZ

— Winter Vampire🏳‍🌈 (@Loki_Bucky263) September 19, 2016
Those who were in attendance at the after party told media that Tom held Priyanka close, Priyanka fixed Tom's bow tie and they shared a 'long hug' before waving goodbye.
In fact, Priyanka and Tom left the event at a difference of one minute from each other. On lookers also said that Priyanka told Tom she will see him later.
All these actions have got tongues wagging about what is cooking between them.
The prospects of this crossover romance have been so exciting that Tom and Priyanka are being referred to #HiddleChops by fans on social media.
Tom Hiddleston, recently ended his short lived affair with singer Taylor Swift. Reports suggested that Taylor's possessive nature did not go down well with Tom and the affair ended. The 'Love Story' hitmaker had also refused to walk on the Emmy's red carpet with Tom. This proved to be the finality in the saga of Tom and Taylor.
By being comfortable around Priyanka, Tom has once again the topic of discussion for his love life. Let us see is this flirting turns into substantial or no.