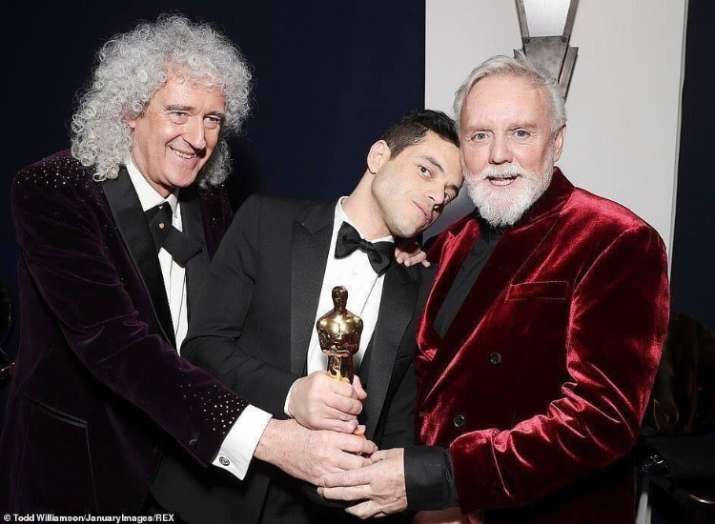 After winning an Oscar for Best Actor in a Leading role, actor Rami Malek fell off the 2019 Academy Awards stage. He was treated by medics after the fall, reports ew.com. The 37-year-old was photographed as he tumbled off the stage into the audience area after the ceremony had concluded on Sunday. The star did his best to hold on his Best Actor statuette. Hitting the ground, Malek looked surprised and was helped up by those around him.
Paramedics were then called to treat the actor, who was moved into a chair in the front row. Malek did not suffer any serious injury in the incident.  The actor had just received the award for his portrayal of Queen frontman Freddie Mercury in the biopic "Bohemian Rhapsody". After his name was announced, Malek passionately kissed his co-star and girlfriend Lucy Boynton.
While he was being honoured, he said, "My mom is in here somewhere, I love you. I love you, lady. My family, thank you for all of this. My dad didn't get to see me do any of this, but I think he's looking down on me right now. This is a monumental moment. I'm so appreciative to all of you, to everyone who has had a hand in getting me here. To the Academy, to people who took a change on me every step of the way. Graham King, [producer] Denis O'Sullivan, everyone at Fox and New Regency, thank you guys so much. I might not have been the obvious choice but I guess it worked out. Thank you Queen. Thank you guys for allowing me to be the tiniest part of your phenomenal, extraordinary legacy. I am forever in your debt."
Rami faced stiff competition from Christian Bale for Vice, Bradley Cooper in A Star Is Born, Willem Dafoe with At Eternity's Gate and Viggo Mortensen in Green Book, but he defeated everyone to earn his maiden Oscar trophy as Best Actor.
(With IANS inputs)