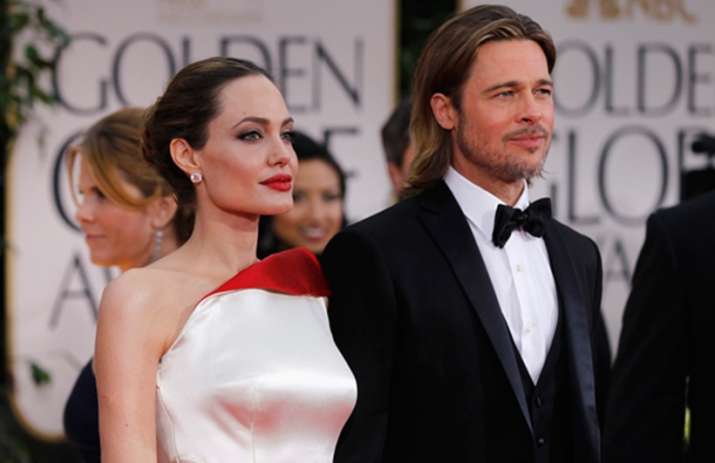 Volcanoes erupted in hearts of fans and tears streamed down their face when news of Brangelina splitting surfaced. Married for two years, Angelina Jolie (41) filed for a divorce from Brad Pitt (52) yesterday, sending shockwaves across fans of the couple. Apart from being a high-profile split, the divorce is also going to be an expensive one as now Brad and Angelina have to decide how will they divide their property worth $400 million (Rs 2680 crore approximately).
Reports have it that net worth of Brad Pitt is $240 million (Rs 1608 crore) and that of Angelina is $160 million (Rs 1072 crore). The couple, have over the years, amassed a large amount of property.
The massive property that the couple owns includes collectibles from around the world. Their top property includes a massive mansion in the Eastern part of Hollywood. The property has pool and a park for their six kids to play. Along with this, Brad and Angelina own an opulent estate Chateau Miraval in France. The chateau ensconces 35 rooms, a vineyard and a recording studio.  
This is not all. The couple have another vineyard in Italy worth $41 million (Rs 274 crore) called Villa Costanza, a home in West London worth $16 million (Rs 107 crore) and another mansion in New Orleans' French Quarter worth $5.65 (Rs 37 crore) million.
Brangelina owned a mansion in Eastern Hollywood

Their Frennch mansion houses 25 bedrooms

Reportedly Angelina wants custody of kids.
It was said that Brad Pitt and Angelina Jolie have signed a prenuptial agreement which says that in case a divorce happens, both will leave with whatever assets they brought into the union.
However, an attorney from California told a leading entertainment portal that the former Brangelina have not signed a prenup. The attorney said that if there was a prenup, it would have been mentioned in the divorce papers and a demand for spousal support be risen. In the absence of such an agreement, the attorney added, it looks like the couple will go for a behind-the-scenes settlement.
Reports also suggest that Angelina Jolie wants full custody of her six kids – Shiloh Mouvel, Viviene Marcheline, Zahara Marley, Maddox Chivan, Pax Thien, Knox Leon; with visitation rights to Brad.
Sources from the industry also said that there are less chances of the divorce being a bloodfest. They said that if the two stars stay true to how they are, the split will go down quietly.