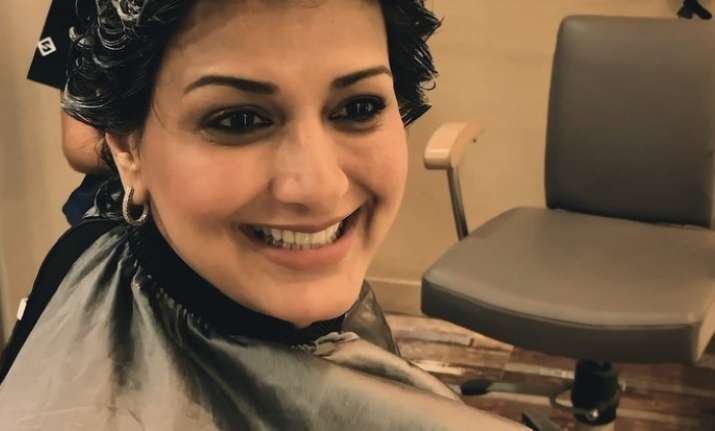 Sonali Bendre has displayed utmost courage while she had been fighting cancer. All Sonali Bendre's fan went into the oceans of deep sorrow, as soon as the news of her cancer broke out. However, the actress maintained her calm and dealt with her ailment with grace. She served as a source of encouragement to the people who lose hope when diagnosed with a life-threatening disease. While she is recovering from cancer, she shared a video of her makeover after she went bald.
Sonali took to her Instagram to share how she underwent a makeover after she went bald due to cancer. She writes,"it's surreal how one can forge a bond when they least expect it. A chance encounter with @tomoarakawa at a salon in NYC, has led to this amazing friendship. Honestly, I'm in awe of the way he works his magic every time he picks a pair of scissors. I'm so glad he came down to India on his break and agreed to do my makeover right here at @kromakaysalon. Thanks to Tomo's genius coupled with my friend @kantamotwani's expertise, I enjoyed an afternoon of pampering and walked out with an amazing new hair cut!
Recently she also revealed in an interview, "I'm so happy that my hair is grown back but more than anything else, all my life, I've had poker straight hair and now, there are some texture and some curl to it. I'm so excited about that. I've always wanted volume in my hair and now that it's growing I'm liking it. It was a bit messy when it was growing out and it was time for a hair cut."
She goes on to say, "I got some bit of colour as well because my hair is now grown slightly so we didn't touch the color to the scalp. We are being a bit careful with that and it just gave me so much joy. When you have long hair, you are really scared to cut it because you always want to hold onto it. But it was time to experiment. I'm going to make the most of it and try as many looks as I can. I'm going to have fun with my hair now."
During all these months of her treatment, she never hid herself or her look. She even posted her bald look picture which received wishes for her well being. 
Sonali has become an epitome of courage and positivity as she displayed how important it is to stay positive in life. We wish good health and speedy recovery to the actress.