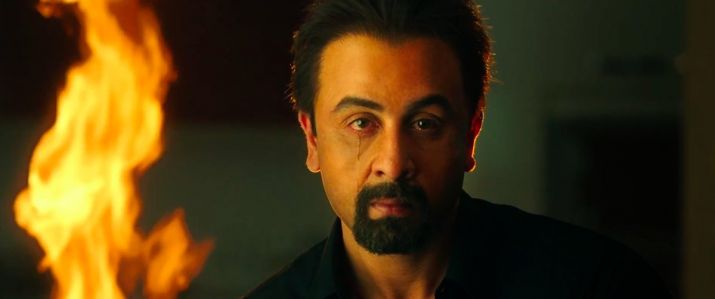 The 85 seconds teaser of Sanjay Dutt's biopic Sanju dropped today and it sent internet into meltdown. The Ranbir Kapoor starrer movie will portray ups and downs in Dutt's life. It will touch all controversies in the actor's life showing how he dealt with them.
Fans were waiting for the teaser with bated breath and we have to say it was worth waiting for. The teaser shows Ranbir Kapoor coming out of Yerwada jail, where Dutt was lodged. We get to see myriad shades of Ranbir as he plays middle-aged Sanjay, drug-addict young Sanjay and also the Sanjay Dutt living a lavish life in New York. Ranbir has undoubtedly pulled off different looks and mannerisms of Sanjay Dutt quite well. 
Ranbir has gone an extra mile to get into the skin of the character and that's clearly visible. The Tamasha actor's last two films didn't perform well but Sanju teaser proves that no one can beat Ranbir when it comes to acting skills. Ranbir has owned every frame of the teaser and we are simply loving it.
Watch the teaser here
Soon after the teaser was out, Ranbir's fans and movie buffs began showering praises on the actor and the forthcoming film. Earlier, sharing poster of Sanju, Rishi Kapoor wrote,''interesting''. Filmmaker Subhash Ghai couldn't stop praising the teaser as he tweeted: ''I can't stop praising the teaser of film  #Sanju directed by my favourite director @RajkumarHirani and acted by @RanbirKapoorFC  in a biopic of @SanjayDutt_  what HIRANI showed me yesterday @Whistling_Woods @5thVeda cultural hub before he shared his experiences with students.''
Sophie Choudry wrote on Twitter: ''This will be beyond EPIC!!! Talk about a killer combo of the Best director, the most Brilliant Actor & The Awesome story of Sanju..Saw a few shots a few months ago and still can't get over it!!! ''
Here's how Twitterati reacted to Sanjay Dutt's biopic
Interesting. pic.twitter.com/xbLytQqPxc

— Rishi Kapoor (@chintskap) April 24, 2018
I can't stop praising the teaser of film #Sanju directed by my favourite director @RajkumarHirani and acted by @RanbirKapoorFC in a biopic of @SanjayDutt_ what HIRANI showed me yesterday @Whistling_Woods @5thVeda cultural hub before he shared his experiences with students 👍

— Subhash Ghai (@SubhashGhai1) April 21, 2018
#RanbirKapoor as #SanjayDutt deserves all the accolades, awards in 2019! 😍😍😍 #SanjuTeaser

— Dr. Urvi Parikh (@filmykiida) April 24, 2018
#RanbirKapoorhttps://t.co/2xIP9T3OsT I'm quite speechless after seeing this teaser I mean yes I always knew he's an amazing actor but this ? He's gone from giving an amazing performance to becoming another person entirely. Wow ! Must watch ! #RanbirKapoor #SanjuTeaser

— Akash Rajput (@AkashRa66) April 24, 2018
First look of #Sanju ...this is EPIC!!! Ranbir Kapoor is class apart!!! pic.twitter.com/bd4YKsqgae

— Faridoon Shahryar (@iFaridoon) April 24, 2018
This will be beyond EPIC!!! Talk about a killer combo of the Best director, the most Brilliant Actor & The Awesome story of Sanju🙌🏼🙌🏼Saw a few shots a few months ago and still can't get over it!!! Raju this is just😍😍👏🏼👏🏼 @RajkumarHirani #sanju #RanbirKapoor pic.twitter.com/HwzlsMM6vk

— Sophie C (@Sophie_Choudry) April 24, 2018
Fantastic.... 1st Look #SANJU #RanbirKapoor @RajkumarHirani
💕💥💕💥💕💥💕💥💕💥💕💥💕💥 pic.twitter.com/0IC8onxpFd

— Girish Johar (@girishjohar) April 24, 2018
Produced by Vidhu Vinod Chopra, T-Series and directed by Rajkumar Hirani, Sanju also stars Anushka Sharma, Sonam Kapoor, Paresh Rawal, Dia Mirza, Vicky Kaushal among others. The flick is slated to release on 29th June, 2018
For all latest news, keep checking our Facebook page