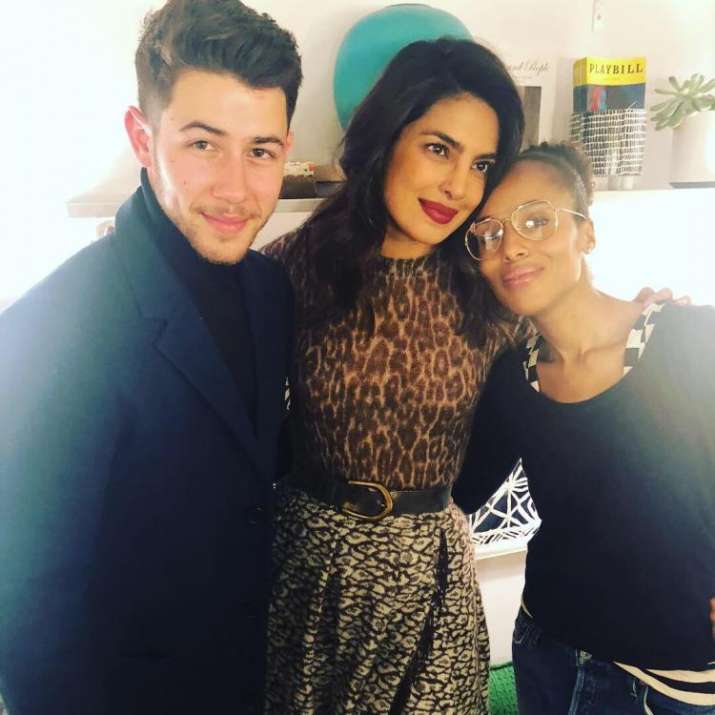 Bollywood actress Priyanka Chopra says that "Scandal" actress Kerry Washington has always been an inspiration to her. Priyanka and her pop singer fiance Nick Jonas on Saturday night attended Washington's highly acclaimed broadway play titled "American Son". The "Scandal" star on Tuesday night took to Twitter to share a string of photographs with the couple.
Washington captioned the image: "It was so great seeing you on Saturday Priyanka Chopra and Nick Jonas! Thanks so much for coming."
It was so great seeing you on Saturday @priyankachopra and @nickjonas! Thanks so much for coming 🙏🏾. #AmericanSonPlay pic.twitter.com/rM6KL1TjIY

— kerry washington (@kerrywashington) October 30, 2018
Priyanka replied: "You were incredible Kerry Washington and so was the team of 'American Son'. Thank you so much for having us and your amazing advice! You have always been an inspiration. good luck and love always."
On October 28, Priyanka friends and family hosted a bridal shower for the Bollywood actress ahead of her wedding with Jonas here.
The two are reportedly getting married at Rajasthan's Mehrangarh Fort in December. They got engaged in August in a traditional Roka ceremony at her residence in Mumbai. 
Recently, Priyanka Chopra spoke on Nick revealing what keeps them going and who made the first move.
Talking to Entertainment Tonight, the former Miss World revealed that it was Nick who approached her. "I actually didn't make the first move -- he did. He texted me. The first time was a text and just saying, 'I think we should connect,' and whatever and that's how we started talking," Priyanka said.
In another recent interview, the 36-year-old actress, who is making her Bollywood return with The Sky Is Pink, explained what she prizes above all else in a relationship. "Who respects that if his work is important, so is yours. Or if he makes choices that are important to him, so is your opinion. That's respect, and that's incredible to have," said Priyanka.